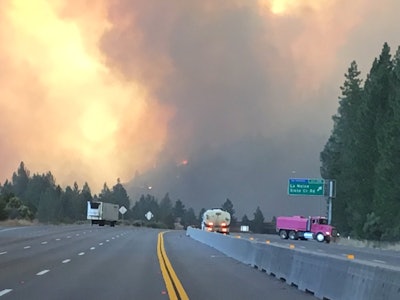 Embed from Getty Images
Update, Sept. 10, 11 a.m. PDT: I-5 has reopened between Redding and Mt. Shasta, with travel reduced to one lane in each direction, according to the California Department of Transportation. The California DOT is telling motorists to expect delays and slow-moving traffic. Flammable vehicles are not allowed.
A nearly 50-mile stretch of Interstate 5 in northern California has been closed since late Thursday due to the so-called Delta Fire that has swept through that part of the state over the past week. The closures affect both northbound and southbound lanes.
The California Department of Transportation late Sunday night confirmed the Interstate was still closed from Redding, Exit 689, to Mount Shasta, Exit 738.
California's DOT said on Twitter it "will open the roadway as soon as possible," but it could not provide a timeline as to when.
The Delta Fire began Wednesday but quickly swept up thousands of acres. Several truck operators were forced to abandon their trucks to seek safety, leaving their rigs to burn on the highway in the fires.
Embed from Getty Images