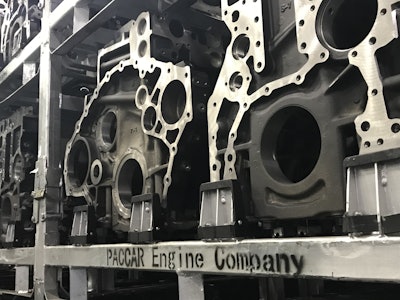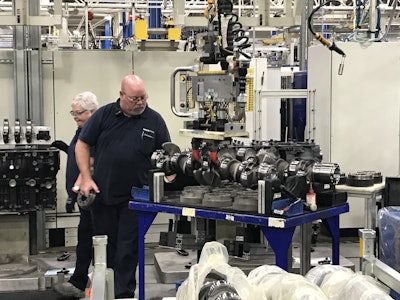 Paccar broke ground on a 400 acre greenfield in Columbus, Miss., in July 2007 – a site that would become home to the company's engine assembly plant, pushing out its first units a year-and-a-half later.
In the nearly eight years since Paccar opened its Columbus Engine Plant, employees have cranked out more than 175,000 MX engines.
The 450,000 square-foot facility produces about 150 MX engines per day at a split of about 10-12 percent MX11 and nearly 90 percent MX13. Penetration rates for the MX in Peterbilt and Kenworth tractors hover just under 50 percent.
"The MX11 has only been out since 2016, so I think customers are still trying to realize the benefit [of the MX11]," says plant manager Lance Walters.
The structure of the plant itself occupies barely 12 percent of the campus where it sits and Walters says production numbers could potentially double through expansion.
"As our engine gets into the market more, we're going to naturally grow our marketshare more," he says. "Our engine will cover 80 to 90 percent of our customer's specs so that's [the production capacity] that we need to be capable of."
Production of a pre-ordered engine begins approximately one week before truck assembly starts. The Columbus plant ships MX engines to Peterbilt's Denton, Texas truck plant and Kenworth facilities in Chillicothe, Ohio, Renton, Wash., and Mexicali, Mexico. Dedicated carriers handle 11 outbound shipments per day with 14 engines on each load.
The engine plant has been a zero-waste-to-landfill facility since it opened and heavily features motion-activated LED lighting. Nearly 90 percent of all material arrives in a returnable container – a figure Walters expects to push to 100 percent in the next few years. The air conditioning system uses a combination of electric and gas depending on seasonality.
All the compacted graphite iron chips milled off the cylinder heads – about 40,000 pounds per day – are recycled and add about $1 million per year back to the company's bottom line.
"We didn't try to get [Leadership in Energy and Environmental Design] certified but we built the facility with the same philosophies," Walters says.
Paccar, who employs 600 in Columbus, competes for employees in and around Columbus with the likes of Yokohama and Boeing, who each have facilities nearby.
Would-be employees submit an application, take an online test and pass an in-person job simulation before facing a five-person interview.
"We're testing you for different values," Walters says, noting that one of the interviewers is an employee from the production line. "They deselect a lot of applicants based on how they feel that person would be as a co-worker."
As rigorous as the process sounds, it's effective. Turnover at the plant is less than 5 percent and under 2.5 percent on the assembly line.
Paccar Engine Company sources parts globally but mounting political pressure on imports have mostly been a non-issue.
Walters says about half of all engine components come from overseas, but "plenty" of stock sits in Mississippi.
"Even with Hurricane Florence, we use Charleston as our port, we didn't see any impact," he says, "and we have long term agreements with suppliers so we don't see any real threats from tariffs in the near future."