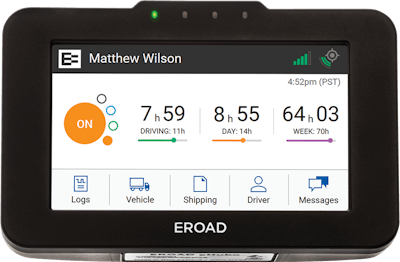 ELD compliance and fleet management software provider EROAD is sharing data it provided to the Federal Motor Carrier Safety Administration (FMCSA) as the agency captures public comment regarding changes to Hours-of-Service regulations under consideration.
"HOS flexibility is important," said Norm Ellis, president of EROAD North America. "EROAD is in an excellent position to combine what we see in our data along with fleet operators' experiences to help FMCSA make the best decisions on improving HOS."
In August 2018, FMCSA announced it was seeking public input regarding four provisions of the industry's Hours-of-Service regulations that are currently under review by the agency.
EROAD analyzed millions of aggregated ELD data points from trips taken by US-based vehicles and drivers from January 1, 2018 through July 31, 2018 to identify violations in relation to type, frequency per driver, and time in violation.
The analysis found the 30-minute rest break is the most common violation, followed by 14-hour duty limit, 11-hour driving limit, and on-duty limit.
The proportion of violations by type has remained fairly consistent since the mandate was introduced. The average time spent in violation is reducing over time, but the number of violations per driver is increasing for the 11-hour driving limit and 14-hour duty limit.
"We appreciate suppliers like EROAD that get involved with our industry by providing actionable information for the FMCSA," said Dave Heller, vice president of government affairs for the Truckload Carriers Association.
The full report submitted to the FMCSA can be found at: https://go.eroad.com/hos_research.