"For too long, traditional telematics systems have saddled fleets like ours with costly hardware that is expensive to maintain and upgrade, and monthly subscription costs that continue to escalate," says Matt Penland, vice president of safety at Cypress Truck Lines, a flatbed hauler based in Jacksonville, Fla.
"There has to be a better way."
Cypress Truck Lines uses a telematics system for its electronic logging and asset tracking applications. It also uses a video-based driver safety and analytics platform from SmartDrive Systems.
Fleets like Cypress are looking for integrated mobile hardware and software solutions that eliminate the cost and complexity of managing multiple devices and wireless subscriptions, and the data overload.
"Fleets should have the same freedom and flexibility to consolidate devices and applications that we all now have on our cell phones," Penland continued. "The technology is available to make this possible."
With the migration from 3G cellular networks to 4G, and the resulting need to upgrade onboard hardware, fleets are finding opportunities to re-think and streamline their technology strategy.
SmartDrive, in partnership with Geotab, announced a new option for converging vehicle devices, wireless subscriptions and data onto a single platform and unified data stream.
The new offering eliminates redundancy across hardware, cellular connectivity, GPS modules, ECU connections and cabling. The companies say fleets will be able to select best-of-breed applications without incurring additional costs associated with managing and maintaining multiple onboard devices.
A single gateway
SmartDrive's SR3 or newest SR4 hardware will be the single on-board data collection hubs that power SmartDrive's video safety and analytics platform with Geotab's telematics and compliance offerings.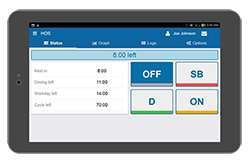 The new SR4 hardware platform includes new sensors for advanced risk identification and real-time driver-assist; architecture enabling the convergence of data, devices and network connectivity; and new analytics powered by SmartDrive SmartIQ.
Having all of the relevant driver safety and vehicle telematics information aligned in one view is especially helpful for managing the time-based series of events leading up to accidents and incidents, Mitgang explained.
Data captured by SmartDrive's in-vehicle devices will sent to Geotab's cloud-based tracking application, which gives real-time and historical visibility to location, speed and geofencing information. It will also be used by Geotab regulatory compliance, which includes hours of service, driver vehicle inspection reports, International Fuel Tax Agreement (IFTA) recording and tax reports.
The display unit for the integrated SmartDrive and Geotab offering can be mobile phones or tablets for a "bring your own device" mobility approach that engages drivers, says Steve Mitgang, chief executive officer of SmartDrive.
"The world is changing," Mitgang said. "Having applications that run on tablets and smartphones creates lower cost. The days of a giant brick bolted into the dash are gone."
Mitgang estimates the consolidated platform that bundles SmartDrive with the ELD and asset tracking service from Geotab will save fleets that are now using separate video safety and telematics products $1,200 per vehicle over three years or $33.33 per vehicle per month.
Marketplace access
Geotab also has a wide variety of integrated third-party applications through the Geotab Marketplace that can utilize the unified data feed.
"We have always said that our hardware is agnostic," said Colin Sutherland, executive vice president of sales, Geotab. "The SmartDrive video hardware integration is a solution that not only leverages Geotab's platform strength to incorporate data from non-Geotab hardware, but it is a great example of telematics solutions that extend the capital investments across multiple solution providers."
The integration with Geotab will be generally available early in the first quarter 2019, and the SmartDrive convergence early adopter program is in progress.
Current and prospective customers will be able to take advantage of the integration to Geotab from either the SmartDrive SR3 or SR4 platform, which was released in March 2018.
Mitgang emphasized that the hardware and data sharing partnership with Geotab is not exclusive. "This is only the beginning," he said. "A lot of other companies have services that we will be announcing."