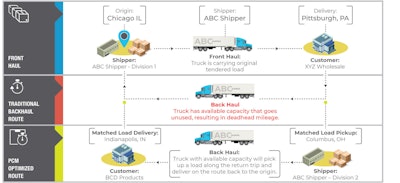 Last year, about 20 of the nation's largest shippers, who represent $20 billion in annual freight spend, came to Chicago for a customer advisory board meeting with FourKites.
More than 200 of the largest Fortune 1000 shippers use FourKites for shipment tracking, analytics and other applications. The company's freight visibility platform integrates with the ELD and dispatch software systems of carriers to automatically capture tracking data.
The shippers on the advisory board wanted FourKites to develop an application to help them find available capacity from their dedicated, private and for-hire fleets, says Matt Elenjickal, FourKites chief executive officer.
Elenjickal founded the company in 2014. Being focused on shippers from day one helped FourKites create density in terms of shipments, lanes and carrier capacity, he says. The density it has for capacity comes from tracking loads on about 80 percent of the top 1,000 carriers.
"We can reach at least two-thirds of the trucks on the road through our tracking platform as we speak," he said during a phone call with CCJ on Tuesday, Oct. 30.
FourKites acted on the customers' suggestion. On Wednesday, Oct. 31, it announced a new executive appointment and a new product for sharing capacity across like-minded shippers and carriers.
Kristopher Glotzbach joined the company as vice president to lead a new business unit responsible for predictive capacity management (PCM). Glotzbach previously worked at UberFreight, and prior to that he spent 19 years at C.H. Robinson.
Glotzbach says he ultimately decided to join FourKites because of its "top down" approach to predictive freight matching. It had already established a large customer base of shippers to create the liquidity and density of shipments and carriers to match freight.
Dynamic matching
Shippers can send load information to PCM directly from their transportation management systems (TMS) to match with available capacity from carriers.
FourKites is able to predict and dynamically match capacity for loads using historical and real-time tracking data and algorithms that determine where and when trucks will be available. FourKites can predict where the trucks are, where they are going, and where they are returning to, Elenjickal says.
The company also uses carrier data to predict with a high degree of accuracy how many driving hours trucks will have available, lane by lane. PCM factors in real-time conditions that include delays at stops, traffic congestion and disruptive weather events into the freight matching, he says.
Once a freight match is accepted by both the shipper and carrier, the information is sent to the shipper for tendering to the carrier through traditional means such as EDI, he explains.
What differentiates FourKites' new PCM from the many digital freight matching companies and products in the market is that FourKites is getting its capacity mainly from private, dedicated and larger for-hire fleets, he says.
Digital freight brokers and freight matching platforms typically go after capacity from small carriers and owner operators. As such, they are "not really bringing new capacity into the marketplace," he says. "We are able to bring new capacity by unlocking deadhead in private and for-hire carriers. That is why we believe we are different."
Overall, studies show that nearly 40 percent of trucks on the road are empty at any given time, and that trucking capacity shortages are driving transportation costs up this year by 15 percent or more.
FourKites believes that capacity sharing can reduce 15 to 20 percent of overall shipping costs by allowing shippers and carriers to access unused truck capacity via private networks, based on the real-time visibility and artificial intelligence matching provided by its platform.
"At a time when trucking capacity is at a record low, the search for carriers that make a good fit on certain lanes is increasingly intense," Elenjickal said. "We're enabling shippers to get products to market more quickly at lower overall operating costs."
FourKites PCM is currently focused on sharing truck capacity across truckload shipments. The broader FourKites platform operates across all transportation modes, including truckload and LTL, ocean, rail, intermodal, last mile and parcel, and in all regions of the world.
The company's shipper customer list includes AB InBev, Conagra Brands, Kraft Heinz, Nestlé, Perdue Foods, Smithfield Foods, Unilever and Walmart Canada.