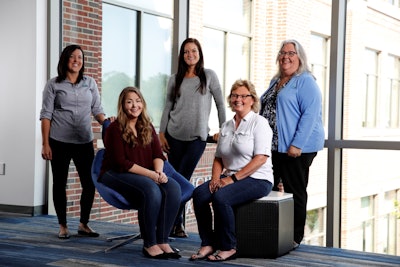 Stay Metrics, a provider of evidence-based driver feedback, engagement, training, and retention solutions for the transportation industry, has promoted five women employees to new leadership roles.
Since its founding in 2012, Stay Metrics says it has been a strong proponent of advancing professional women in the trucking industry at all levels. The following individuals were promoted to these positions to more fully utilize their professional talents, industry experience, and leadership abilities:
Nicole Fullone, client services team lead
Teri Gillespie, survey and research team lead
Karley LaDow, client relationship manager team lead
Mary Malone, vice president of business development
Milinda Riester, interview team manager
"Stay Metrics highly values and respects the contributions of women to the transportation industry. Our future depends on effective leadership and we are grateful for the impact and ongoing potential of these talented professionals," said Jerry Scott, chief operating officer of Stay Metrics.
The new leaders will support the ongoing research, client services, and sales efforts for Stay Metrics' driver-focused engagement and retention products, which include:
A suite of Driver Surveys for preventing early-stage turnover.
Advanced data analytics and predictive modeling focused on driver retention.
A custom, online Driver Rewards platform that carriers use to engage drivers and build loyalty.
A highly effective and rewarding collection of DRIVE SAFE and DRIVE FIT online training modules.
Stay Metrics is a corporate member of The Women In Trucking Association, a non-profit with the mission to encourage the employment of women in the trucking industry, promote their accomplishments, and minimize the obstacles they face.