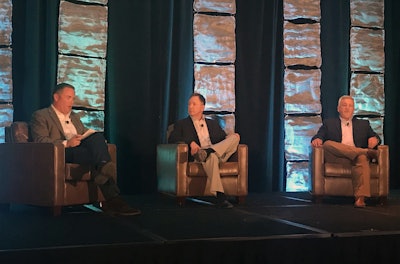 Driver pay has trended upward this year as carriers fight to hang on to their best talent, but adding dollars to a paycheck has evolved beyond just a pay bump or mileage boost.
American Central Transport and Smokey Point Distributing discussed their changing pay strategies Tuesday at CCJ Solutions Summit in Phoenix.
Over the last 7 years, American Central Transport's (ACT) has transitioned from a pay-for-performance model in 2011 to program built around annual raises and bonuses.
"It became a thought of that we're going to get longevity," says Phil Wilt, president and COO of American Central Transport, who noted the company also added six holidays.
This year, ACT drivers were offered two raises and a bonus.
"The thing we started to notice is that as pay has gone up, there are drivers that don't want to come out of home as much," Wilt says.
A new monthly bonus plan, which starts at 9,000 miles, incentivizes taking freight and Wilt says upwards of 70 percent of the fleet's drivers hit a bonus benchmark.
"What that does is that if you have a bad month, the next month comes around and you're right back in it," he adds. "Our goal is to pay that out because if we pay that out we're winning and they're winning."
ACT has also implemented a pay structure that doesn't leave a driver holding the bag for downtime that isn't their fault.
"We're looking at driver time and if something happens … then we have come in and put stop gaps in their pay," Wilt says. "If something happens on the road with your tractor, then we have totally redone what we have done with our breakdown pay."
Smokey Point Distributing in June placed its drivers on an annual salary program, paying qualified solo over-the-road drivers with flatbed hauling experience an annual salary of $65,000 and each qualified and experienced member of a driving team an annual salary of $75,000.
"Mileage-based pay is really cyclical," CEO Dan Wirkkala says, noting more than 20 percent of the company's drivers in 2016 quit over money and miles. "It came down to cyclicality of pay."
The company pushed money-based turnover down to 18 percent in 2017 but since implementing a salary pay structure this year, drivers who quit over money-related matters has fallen to 6 percent.
Initially, Wirkkala says he was concerned that driver productivity would fall since pay was guaranteed. Under-performing drivers see a reduction in salary and a reduction in miles, which boosts their productivity and allows them to climb back into the higher pay scale.
Smokey Point drivers are required to hit 9,900 miles per month, which helps build an annual bonus for any miles over that mark. Wirkkala says many drivers are on pace for anniversary bonuses in excess of $20,000.
"These bonuses are in front of the drivers every day. It's likely to change their mentality to leave an organization. Do you think a guy that sees he's on pace for a $26,000 bonus is going to quit over a spat with dispatch? Probably not," Wirkkala says.
Smokey Point also bonuses drivers who recruit other drivers to the company and not just at the new driver's hire date. Wirkkala says drivers are paid annually for as long as their "family of drivers" stays with the fleet.
According to the National Transportation Institute, 85 percent of 519 private and for-hire carriers surveyed earlier this year say changes in pay have not helped attract new drivers.
"The [pay] increases we've done is what it takes to get a seat at the table," says Wilt, who agrees with the survey results. "The fact is that we do use our driver pay program in recruiting but it's very much a retention tool. We want to make sure we retain our top talent. They like the fact that they have control over their pay and they know how to do it."
Wirkkala, who also agreed with the survey's outcome, says when the company implemented its salary program "applications went through the roof" but adds many of the applicants weren't employable.
"The quality wasn't as good," he says. "The problem in our industry is a lot of the good drivers are already with good companies."