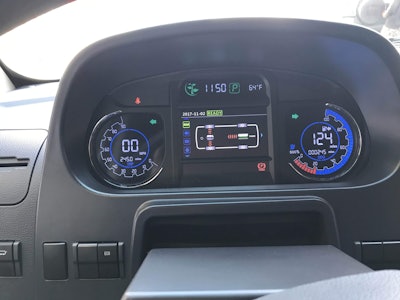 FedEx on Tuesday announced it would expand its zero-emissions fleet with 1,000 Chanje V8100 electric delivery vehicles.
The shipping giant this year has upped its commitment to the electric drivetrain, having previously announced the order of 20 Tesla Semis.
FedEx says it intends to purchase 100 of the vehicles from Chanje Energy and lease 900 from Ryder System for its FedEx Express division which will use them for commercial and residential pick-up and delivery services in the U.S. The fleet is expected to be deployed throughout California over the next two years.
Ryder System will provide support services for all of the vehicles.
Dennis Cooke, Ryder president of global fleet management solutions, says the company continues to see broadening interest in electric vehicles from businesses of various sizes and industries looking.
"Especially in the final mile delivery space where a smaller, more environmentally-friendly vehicle is required," he adds.
FedEx Chief Sustainability Officer Mitch Jackson says the company's most recent order is part of FedEx's Reduce, Replace, Revolutionize approach to sustainability, which "continually seeks new ways to maximize operational efficiency, minimize impacts and find innovative solutions.
"Our investment in these vehicles is part of our commitment to that approach of serving our customers and connecting the world responsibly and resourcefully," Jackson says.
The Chanje EVs have a range of more than 150 miles when fully charged and have the potential to help FedEx save 2,000 gallons of fuel while avoiding 20 tons of emissions per vehicle each year. The maximum cargo capacity is around 6,000 pounds.
FedEx has been using all-electric vehicles as part of its pickup-and-delivery fleet since 2009.