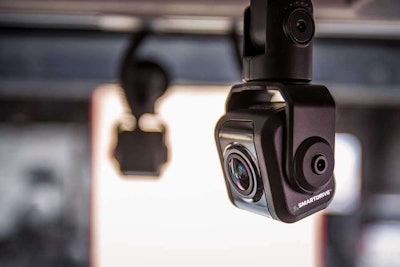 Fleet telematics company SmartDrive is petitioning the Federal Motor Carrier Safety Administration to allow it to mount a camera on truck windshields lower than current regulations allow.
In its petition, SmartDrive says its advanced driver assistance systems (ADAS) camera would be mounted outside drivers' normal sight lines to the road, highway signs, signals and mirrors.
Regulations require vehicle safety technologies to be mounted not more than four inches below the upper edge of the area swept by the windshield wipers or not more than seven inches above the lower edge of the area swept by the wipers, and outside the driver's sight lines to the road, signs and signals.
SmartDrive says its ADAS – which offers forward collision warnings, short following distance warnings, lane detection and departure warnings and active monitoring with real-time driver feedback – should be mounted with the bottom edge of the camera housing approximately eight inches below the upper edge of the area swept by windshield wipers. "The location will allow for the optimal functionality of the advanced safety systems supported by the camera," the company said in its petition.
FMCSA is seeking public comment on the petition, which can be made here through Dec. 27.