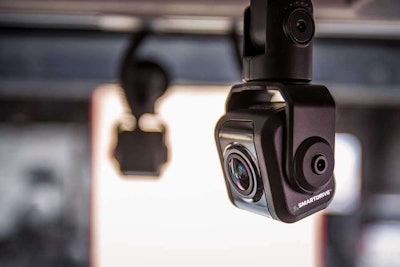 The Federal Motor Carrier Safety Administration announced in Federal Register notices that it has granted one exemption to allow an advanced driver assistance systems (ADAS) camera to be mounted lower on windshields that regulations allow and that it has received another request for a similar exemption.
Regulations require vehicle safety technologies to be mounted not more than four inches below the upper edge of the area swept by the windshield wipers or not more than seven inches above the lower edge of the area swept by the wipers, and outside the driver's sight lines to the road, signs and signals.
SmartDrive is the recipient of the waiver to allow their ADAS camera lower on windshields but still outside drivers' normal sight lines to the road, highway signs, signals and mirrors.
FMCSA says SmartDrive's camera housing is 3.7 inches wide by 5.2 inches tall and will be mounted in the approximate center of the windshield. The agency adds that it is not aware of any evidence showing that having these devices in similar locations on windshields reduces safety.
The agency also received a request from Navistar for its ADAS to be mounted lower on the windshield that regulations allow. Navistar says its ADAS will be mounted outside drivers' normal sight lines to all mirrors.
The company says its camera should be mounted in the upper center area of the windshield and in an area where the windshield is swept by the wipers to provide a clear view of the road ahead and any obstacles that may be in the truck's path. Navistar's system includes features such as rear-end collision mitigation, adaptive cruise control with following distance alerts, stationary object alerts, lane departure warning, alerts when speeding and automatic braking on stationary vehicles.
FMCSA is seeking public comment on Navistar's request, which can be made at www.regulations.gov by searching Docket No. FMCSA-2019-0091 when it is published in the Federal Register Thursday, April 18.