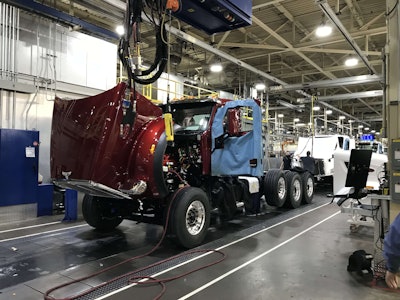 CCJ's Indicators rounds up the latest reports on trucking business indicators on rates, freight, equipment, the economy and more.
Preliminary Class 8 truck orders in North America totaled 27,500 in November, according to FTR, with the market winding down after five consecutive months topping 40,000 orders. Novembers order total was the lowest of the year and the lowest since September 2017, but FTR says the dip was expected.
North American Class 8 orders for the previous twelve months total a whopping 499,000 units. FTR says the build backlog remains at a record volume and few build slots remain for 2019.
"It was expected that orders would fall fairly soon, as the available 2019 slots filled up," says Don Ake, vice president of commercial vehicles for FTR. "A couple of the OEMs that had some open capacity actually had solid order numbers, while the rest appear to be nearly sold out for next year. This drop in orders was reasonable considering the huge volumes of the last five months, although 27,500 is not that bad of a number. The freight fundamentals remain strong and we still expect the equipment markets to have a great year in 2019."
Ake says orders could dip below 20,000 in December and that cancellations could rise. "Not as a result of market weakness," he says, "but because backlogs are enormous and fleets will continue to move orders around as needed."