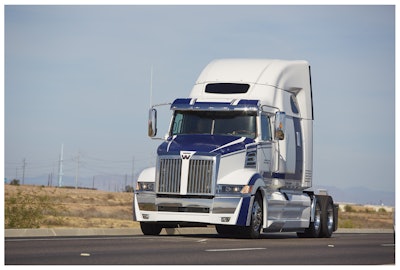 Western Star has made available a new aerodynamic roof fairing for its 5700XE 82-inch ultra-high roof sleeper models, that – designed and tested in the Daimler Trucks North America (DTNA) wind tunnel – optimizes airflow across the trailer gap and sides to reduce drag.
The new roof fairing has been designated as SmartWay Certified by the EPA. Several 5700XE configurations with full aerodynamics packages are already SmartWay certified.
The 5700XE was designed with efficiency as a priority with standard features such as an aerodynamic hood, roof, chassis and cab fairings that reduce drag.
AWD Western Star 4700 getting new front drive axle option
The Western Star 4700 set-back all-wheel drive 6×6 and 4×4 trucks can now be spec'd with an 18,000-lb. front drive axle. This option, ideal for snow plow applications, provides enhanced maneuverability required for harsh winter conditions.
The heavy-duty front drive axle from Meritor also contributes to sharper wheel cuts, superior steering control and better weight distribution, helping drivers maintain better control on slick winter roads.
"Snow plows work under some of the most extreme conditions and often in tight, neighborhood or urban environments. The new front drive axle option delivers increased capacity and better mobility when it's needed most," says Peter Schimunek, vocational marketing manager for Western Star. "When adding new specs, we evaluate the needs of our customers and the challenges they face to ensure we have the best options available to help them stay productive on the job."
Available with hundreds of customization options, the versatile 4700 can be purpose-built to take on local and regional hauls as well as tough vocational applications.
The 4700SB AWD with the 18,000-lb. front drive axle can be spec'd with the Cummins L9 engine and is now in production.