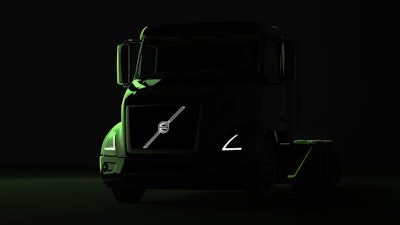 Providing more clarity on its game plan toward an electric truck solution for the North American market, Volvo Trucks North America announced it is moving forward with an electric version of its 2017-launched Volvo VNR regional tractor originally developed for and produced in North America.
Dubbed the VNR Electric, the tractor will be put into test operations next year with 23 units at fleet customers NFI and Dependable Highway Express as part of the Low Impact Green Heavy Transport Solution (LIGHTS) partnership consisting of the Volvo Group, California's South Coast Air Quality Management District (SCAQMD) and other transportation and electrical charging infrastructure participants. The California Air Resources Board provided more than $44 million in funding for the project.
"We appreciate that the California Air Resources Board (CARB) and the SCAQMD have recognized our leadership and trusted us to oversee this project that will ultimately result in the commercialization of fully-electric heavy-duty trucks," said Peter Voorhoeve, president of Volvo Trucks North America.
Voorhoeve said the VNR Electric will be commercially available beginning in 2020 after the completion of the LIGHTS project. But vehicle details are light other than a 113-inch BBC length and 50-degree wheel cut. Company executives said it will rely on fully electric powertrain technology from the Volvo FE and FL Electric cabovers introduced in Europe earlier this year and available for sale in 2019. The tractor also will feature a "driver-centric work environment" and stamped steel bumper to protect the lights and grille.
In addition to its European FL and FE siblings, the VNR Electric's development will undoubtedly build on experience gained from Volvo Buses' electric vehicle development. The group currently has added more than 4,000 electric buses into operation since 2010.
As the VNR Electric is still under development, no detailed specs were released other than a 113-inch BBC and 50-degree wheel cut."We have decided in the group not to use cabover from Europe, but to electrify the VNR," said Voorhoeve at a press roundtable at the House of Sweden in Washington, D.C. "From a technology point of view, we are using the electric drivetrain in the FE and FL. But we believe that for electric truck applications that the VNR is the electric truck for North America. We will showcase it in the LIGHTS project and then right after that we will commercialize it."
The $90.7 million LIGHTS project is Volvo's way of differentiating itself from other truck OEMs and startups in the electric truck space with by developing an end-to-end solution that addresses the tractor as well as the charging infrastructure that will be required by fleets at terminals and customer locations.
"Electric trucks bring many unknowns and our holistic focus through the LIGHTS project will help our fleet partners transition securely and smoothly based on their individual needs regarding driving cycles, load capacity, uptime, range and other parameters," said Johan Agebrand, director of product marketing for Volvo Trucks North America. "Within the project we'll look at everything from route analysis and battery optimization to servicing and financing."
The buzz around electric vehicles created by companies like Tesla, Thor and Chanje have helped accelerate the conversation around electromobility in North America, said Magnus Koeck, vice president of marketing and brand management for Volvo Trucks North America, but he added Volvo Trucks has a built-in advantage of scalability of a global company that builds in excess of 200,000 trucks per year.
"Anyone can build one or two or 10 [electric trucks], but to have an entire global supply chain to build 200,000 trucks that are correctly spec'd for a particular customer in a particular market or region around the world, that shouldn't be underestimated," said Koeck.