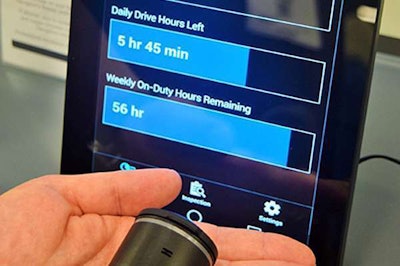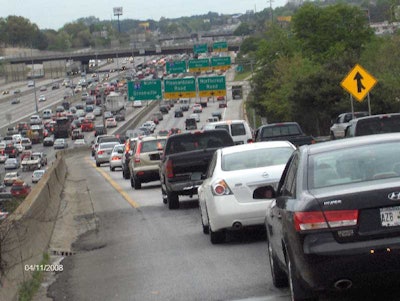 Country artist Jerry Reed carved out a good living singing about long ways to go and short times to get there, but nothing has put trucking's time and distance conundrum into focus more than the electronic log mandate.
While hours of service (HOS) rules didn't change with a national rollout a year ago, the ELD removed a driver's ability to fudge a paper logbook and often resulting in fewer miles driven and the addition of a day to a one-day job previously.
"Before the ELD mandate, when drivers encountered interruptions in their schedule they would typically edit them out of their logbooks," says Blue Ink Tech Operations Manager Mike Riegel. "Long waits to get loaded by a shipper and unplanned downtime for maintenance would get adjusted on paper logs to still get 11 hours of drive time."
With hopes of reducing the number of on-highway crashes, the ELD was a safety tool of the Federal Motor Carrier Safety Administration (FMCSA), just as the speed limiter was a tool for fleets with the same endgame.
Having already helped slash HOS violations according to the FMCSA, JJ Keller Marketing & Communications Specialist Becca Brown says e-logs have also been a valuable tool in providing data around many areas, "allowing for efficiencies in many operational areas that weren't possible before."
Even with losses in efficiency, Brown notes she's not seen fleets widely bumping up their speed limiters to meet delivery deadlines now complicated by the restraints of an ELD.
Nearly half (48 percent) of KeepTruckin users surveyed by the company in December in cooperation with CCJ for this story said they noticed a drop in driver productivity as a direct result of the ELD mandate, yet more than 81 percent say they did not adjust their speed limiters in 2018.
Navajo Express President Don Digby Jr., whose company implemented ELDs in July 2008, says there are better ways of getting more work done than simply trying to do it faster.
"Safety is paramount and a couple miles an hour isn't really going to make up a lot of time," he says.
Half of the 18.5 percent of KeepTruckin respondents who opted to speed up last year seemingly agree that it doesn't make a lot of difference. Fifty percent of the fleets who said they sped up in 2018 said they noticed an improvement in driver productivity while another 50 percent said there was no impact. A majority (67 percent) of those who sped up last year said they added between 3 and 7 mph.
"Where you make up a lot of time is coaching your drivers to keep the left-hand door closed," Digby adds.
When the left-hand door is opened, Sysco Senior Director of Delivery Joe Bennett says it's critical to maximize the effectiveness of those minutes outside the cab. An internal scanning system allows Sysco to see that drivers are arriving and unloading promptly and minimizing dwell time, which can mount when multiplied across the company's 9,000 food delivery tractors.
"You might have four or five minutes of dead time from the time the ignition turns off to the time the driver brings the first case of product into the customer," he says. "And then you have the same on the back end – from the time he finishes scanning the last case versus when you turn the ignition back on to leave."
The majority of KeepTruckin respondents plan to enter 2019 at the same speed as last, with nearly 60 percent saying they are not likely to raise limited speeds next year – 22 percent say they are not even considering it. Only 4 percent say they "definitely will."
For fleets unwilling to speed up, Riegel says it's critical to maximize each load.
"Not knowing how much they weigh when they leave the dock means driving miles out of route to a commercial scale," he says. "If they find out they're overweight, they either return to the shipper, taking even more time out of their shift, or risk a fine from the DOT. If they find out they aren't hauling a full load, that's a huge loss of revenue."
While not necessarily motivated by ELDs, KeepTruckin co-founder and CEO Shoaib Makani says his company has observed that drivers tend to drive faster after an extended detention event – more than two hours at a shipper/receiver – in an attempt to maximize available driving hours.
Complicating matters is that states have various speed laws. Forty-seven percent of surveyed KeepTruckin users report a governed speed between 70 and 74 mph – higher than the average posted speed limits in 30 states, according to the Governors Highway Safety Association.
"The problem is not the speed," noted one respondent to the anonymous KeepTruckin survey, "it's the time we lose in in traffic, and then I have to speed to try to recover the time."