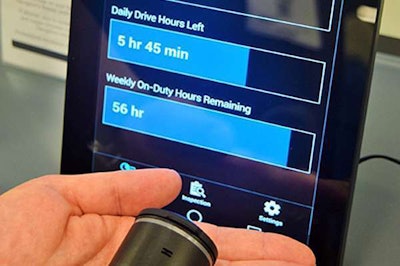 On March 9, the Federal Motor Carrier Safety Administration added a new FAQ to its website. The answer to the following question shows the agency made a significant change to its ELD rule.
Q. May a motor carrier that installed and required its drivers to use an AOBRD before December 18, 2017, install and use a new ELD-capable device that runs compliant AOBRD software after that date?
The ELD rule (FMCSA 395.16) originally stated that any and all electronic logging devices motor carriers purchase after Dec. 18, 2017, had to comply with new specifications.
Motor carriers that voluntarily used e-logs prior to Dec. 2017 outfitted their fleets with Automatic Onboard Recording Devices (AOBRDs) to satisfy the previous rule, FMCSA 395.15.
The new ELD rule created a scenario where fleets using AOBRDs prior to Dec 2017 would have two versions of software for electronic logging activities: one version for their AOBRDs and another for ELDs they purchased and installed in 2018 and beyond.
In some cases this multi-version environment caused some technical issues. In February, news surfaced that some fleets had been experiencing difficulties when Old Dominion Freight Lines requested a waiver from the FMCSA to run AOBRDs in newly acquired trucks after Dec. 2017.
ODFL filed the petition on behalf of all carriers running PeopleNet systems. ODFL was experiencing problems integrating the ELD-compliant software update from PeopleNet into its fleet management system.
The FMCSA effectively granted the waiver and allowed all carriers to continue installing AOBRD versions when it posted the answer to the FAQ on March 9:
A: Yes, until December 16, 2019.
The FMCSA is therefore allowing fleets with AOBRDs to continue on the same path for newly purchased (or previously uninstalled) devices. The only caveat is that any new devices must be upgraded over-the-air to be mandate-compliant ELDs by December 16, 2019.
This new "exception" in the ELD rule allows greater flexibility to continue running AOBRDs as a fleet expands instead of bringing ELDs into the mix, explains Tom Reader, director of marketing for J.J. Keller's ELD solutions.
J.J. Keller adds further clarification on this topic by posting some FAQs on its own website.
Q: If I bought AOBRDs before December 18, 2017, but did not install them, can I still install and use them today?
A: No, not if you never installed a single device.
Q: If a motor carrier is using AOBRDs, can it install and use a new ELD-capable device that runs compliant AOBRD software today?
A: Yes, until December 16, 2019. The new devices must be designed in compliance with the ELD standards even though they are running AOBRD software. The software must comply with the AOBRD standards in §395.15.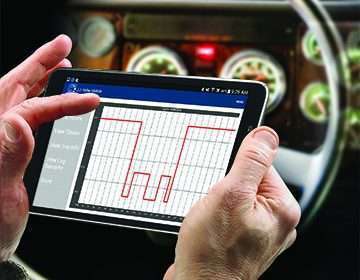 J.J. Keller's product, like some others in the market, can be updated over-the-air from AOBRD to ELD, Reader says, and the majority of fleets that use the AOBRD version are in no hurry to migrate to the full ELD mandate compliant solution.
Using both AOBRDs and ELDs can make it difficult for carriers and drivers since the two versions have nuances for certain processes like log editing and data transfer at roadside inspections, Reader says.
For fleets using AOBRDs, Reader anticipates many will continue installing AOBRD versions up until Dec. 2019.
"If fleets are already on ABORDs we suggest they stay," says Reader. "We will continue to train them on the nuances between now and the end of next year when they make the switch."
As for how the FMCSA will handle roadside inspections when fleets use AOBRDs, ELDs or both, Reader says it won't make much difference as "the proof will be in the driver's hands."
On the driver display, J.J. Keller's ELD specifies what version the driver is using–an AOBRD or ELD. J.J. Keller also provides drivers with instruction cards and a roadside hotline, he says.
Some products in the market currently do not give fleets a choice to use both versions concurrently. Some ELD suppliers updated all of their software to their new ELD version. Looking ahead, Reader believes carriers that continue to install AOBRD versions will have a fairly seamless transition to ELDs when the time comes.
"There are still kinks that need to be worked out," he says. "Drivers, vendors and carriers will be able to figure that out."
For a more details on the differences between AOBRDs and ELDs, see this previous article.