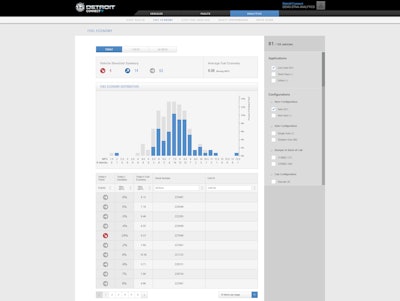 Daimler Trucks North America (DTNA) has extended Detroit Connect Analytics to additional truck models. The service can also be added to vehicles in the aftermarket.
Analytics is now available to order as a new truck option or in the aftermarket on the new Freightliner Cascadia, original Cascadia and Western Star 5700 truck models spec'd with Detroit engines. Detroit Connect Analytics automatically translates fuel consumption and safety data into interactive and easy-to-understand reports for vehicle and fleet performance.
"We understand data is essential to making smart business decisions in todays connected world, but the abundance of data can be time consuming for our customers to study and put into action in their fleets," said Jason Krajewski, director of connectivity for DTNA. "Expanding the services to other models and to the aftermarket allows fleet managers to spend less time crunching numbers and more time focusing on vehicle and driver performance across their fleet."
Depending on the truck model, customers can opt for either Fuel Performance reports, Safety Reporting or Fuel Performance and Safety Reporting. Through a dedicated section of the Detroit Connect portal, customers will have access to the performance data for a single vehicle and an entire fleet.
Fuel Performance reports interpret a variety of factors that impact fuel economy such as engine speed, idle time, cruise control usage, engine power, integrated powertrain performance and driver interaction. The automated reports highlight driving behaviors that are affecting that performance.
Safety Reporting collects data from events such as collision mitigation braking, lane departure warnings and distance violations from the safety system on the vehicle, such as Detroit Assurance, and converts it into Safety Reports. These reports visualize the events across their fleet and for specific trips or vehicles, the company says. Onboard sensors capture events 15 seconds before to 15 seconds after they occur.
"Our experts have developed algorithms that transform data into deep, actionable insights that can have a significant impact on uptime and the bottom line," added Krajewski.
For the original Freightliner Cascadia and Wester Star 5700, Detroit Connect Analytics is delivered through the Zonar VTHU platform.