Luma "Brighter Learning," a learning and instructional design company that helps carriers save time and money with orientation training, announced a new game-based interactive module for Hazardous Materials Training.
Anyone who has been in charge of hazmat training can attest that there is a lot of essential content to remember, notes Dr. Gina Anderson, Luma's chief executive officer.
"The average person can only hold 7 +/- 2 pieces of information in their working memory," said Anderson. When flipping through the Hazardous Emergency Response Guidebook, it "made my mind spin," she noted. "We talked to drivers and carriers and they had the same reaction. We wanted to help drivers access and learn this content."
With more than 20 years in the education field, Luma studies driver learning preferences to deliver the best possible content in a way that is most meaningful to them, she says.
The Interactive Emergency Guidebook is the latest addition to the DRIVE FIRST collection of more than 100 individual modules that cover various topics motor carriers use for driver orientation and ongoing training.
Luma uses an E2A Instructional Model for all of its short, individual training modules called eNuggets in the DRIVE FIRST collection. "E2A" stands for Engagement, Efficiency and Authenticity.
Engagement
The new Hazmat Training keeps content entertaining and fun, the company says. As an example, the training lets drivers read about and get tested on the different types of hazmat classifications (classes). It also has a game element that lets drivers see how fast they can match the correct classes for select examples of materials.
Luma cites research that shows learning is promoted when drivers are attentive and motivated to learn. The first step in learning is to have someone's attention.
With attention spans decreasing, Luma says it is important to know what medium of content drivers prefer to engage them right away. Luma has found that most hazmat training in the market is delivered passively, where drivers have to watch a video or listen to someone tell them the information with a PowerPoint.
Luma's research shows drivers prefer different types of content and not just video. Seventy percent of drivers ask for a mixture of content, and specifically rate content that looks or functions like a game the highest. On average, drivers give the eNuggets with game elements a rating of 4.55 out of 5 stars.
Efficiency
Luma created a way to condense Hazmat Training information and get it to the drivers when and where they need it. A driver can quickly search for emergency response information and get the information instantly on any device, instead of scrolling through 400 pages of the Hazardous Emergency Response Guidebook.
Everyone's working memory has limits as to how much it can retain. Luma cites research that shows people have to attend to new content that is complex or unfamiliar repeatedly, and over time, before it can be encoded into long-term memory.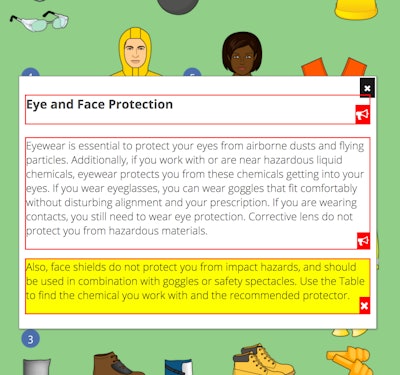 Research also shows the learner has to play an active role in the construction of information rather than passively studying or listening to information.
Authenticity
In the Hazardous Materials Training, Luma provides both a print version for those drivers who would want to print it and an interactive version for drivers who want to search and find information through their smart device.
Learning is promoted when you make it relevant to the learners, the company says. Knowing what is important to drivers is useful to make content relevant.
"Drivers have told us that they appreciate when technology is easy to use," Anderson said. "Additionally, they prefer a mixture of content."
Luma's research on driver learning shows that it is imperative for retention of content to differentiate the learning tools, the mediums, and the type of training offered. For example, 12.9 percent of drivers have used a "virtual agent" that reads content to them.
"Our goal is always to make the content and tools useful for the drivers," says Dr. Scott Anderson, chief operating officer of Luma. "If drivers find the Interactive Emergency Guidebook eNugget useful and are able to pull it up on the job, it will ultimately save them time and help prevent costly and perhaps deadly mistakes."