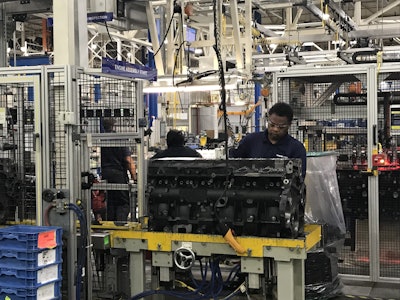 "Thank God for Mississippi" is a widely known dig across the southeast.
It's an unfair remark about the state's historical standing near the bottom across many important metrics like education, healthcare and income.
While those are certainly three areas of opportunity for The Magnolia State, that shot paints in a kind of light that infers Mississippi lacks sophistication and relevance on a national scale, which simply isn't true.
For one, Mississippi serves an important role in trucking.
According to World's Top Exports, Mississippi shipped $11.2 billion worth of goods worldwide in 2017. More than 20-percent of that figure – $2.3 billion – was petroleum oils.
The Mississippi Development authority ranks the state's divided four-lane highway system No. 8 in the U.S. and the state is home to distribution and warehousing operations for the likes of Dollar General, CAT and Lowe's, among many others.
Truck freight is the dominant transport mode in the Gulf Coast corridor and the Mississippi Department of Transportation projects growth from 61 percent of total freight in 2011 to 65-percent in 2040.
Paccar's MX Engine plant in Columbus is a 450,000 square-foot facility that produces about 150 MX engines per day. That breaks down to a split of about 10-12 percent MX11 and nearly 90 percent MX13.
In the nearly eight years since Paccar opened its state-of-the-art Columbus Engine Plant, employees have cranked out more than 175,000 MX engines.
Penetration rates for the MX in Peterbilt and Kenworth tractors hover just under 50 percent, so this plant's significance grows a little more every year.
Paccar, who employs 600 in Columbus, competes for employees in and around the area with the likes of Yokohama, who has a commercial truck tire plant 15 miles away in West Point.
Yokohama's roughly 1-million-square-foot factory – constructed on more than 500 acres of land – was a $300 million investment that brought nearly 700 jobs to a town whose total population doesn't crack 11,000 people.
West Point was selected after an exhaustive year-long search in 2012 that included site locations in 3,000 counties across the U.S. and the site now manufactures approximately 3,000 tires per day.
In November, Continental opened its new Employee Training Center in Clinton. Part of a $1.45 billion investment for the Continental manufacturing site currently under development in the state, The Training Center is the first finished structure in Continental's long-term growth strategy in Mississippi and will support recruitment and retention for Continental's commercial vehicle tire plant.
By the time the tire plant opens later this year and officially starts production in 2020, around 400 employees will be hired and approximately 2,500 jobs will be created by 2028.
Let's take a step back and just look at the three companies listed above: Paccar, Yokohama and Continental. All three do business all over the globe with revenues in the billions. Three massive trucking industry companies right there in little ol' Mississippi.
Then you have the several dozen trucking companies who call Mississippi home along with large national carriers who have terminals there.
Mississippi's story is unique but not dissimilar to others that can be told nationwide. Walmart and Amazon – with a combined workforce of nearly 2.9 million – are the top 2 private employers in the U.S. and trucking is their lifeblood.
FedEx and UPS, combining for nearly three-quarters of a million employees, round out the top 10.
All told, the American Trucking Association estimates there are approximately 3.5 million professional truck drivers in the U.S. and the total number of people employed in the industry tops 8.7 million.
Those are staggering numbers that reflect just how vital trucking is to the economy, whether you're holding a steering wheel, a package scanner or an assembly tool in Mississippi, Tennessee or anywhere else in the U.S.