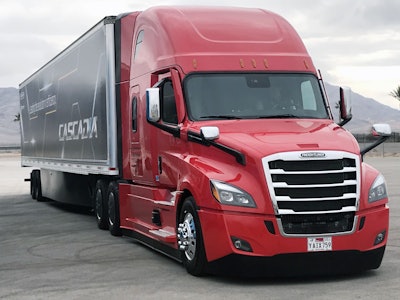 The 2020 Freightliner Cascadia, which debuted last week at the 2019 Consumer Electronics Show in Las Vegas, was recognized as the show's "Best Transportation Technology" by tech publication Engadget at its annual Best of CES awards ceremony.
According the Engadget, the Transportation Technology category is awarded to the best technology related to the "ever-advancing science of getting from here to there." The truck is the first SAE Level 2 automated truck to enter series production in North America.
Level 2 automation means the truck can accelerate, decelerate and steer independently. The 2020 Cascadia employs an advanced cruise control system, which can be used at all speeds, to achieve the Level 2 automation. Using the Detroit Assurance 5.0 Adaptive Cruise Control and Active lane Assist features, the truck can maintain its lane and accelerate and decelerate to maintain following distance.