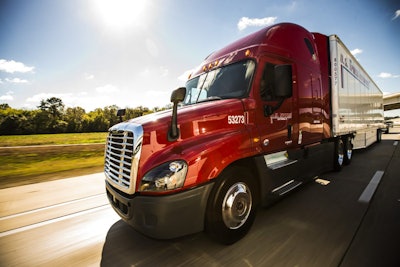 U.S. Xpress (No. 16 in the CCJ Top 250) has sold its ownership stake in its U.S.-Mexico cross-border trucking business, the company announced Friday. The Chattanooga, Tenn.-based carrier expects the divestment to generate $40 million in savings, both from proceeds from the sale and by reducing spending on equipment.
The move comes as part of the company's efforts to "improve profitability and enhance shareholder returns," says president and CEO Eric Fuller. U.S. Xpress transitioned to a publicly traded carrier last June.
The company says it hopes to generate $20 million for the sale of its 95 percent stake in U.S. Xpress Internacional, SA de CV and from the sale of the Laredo, Texas, terminal where the cross-border operations were housed. Xpress will also sell the 700 dry van trailers used in the cross-border business.
The company said it has completed the sale of its equity stake for $4.5 million now and $8.5 million over the next 8.5 years. The company estimates the value of its Laredo terminal to be $7 million. The 700 trailers had been slated for replacement over the next two years, the company said, which would have cost roughly $20 million.
U.S. Xpress says its cross-border business brings in about $50 million in annual revenue, but its impact on profit is "insignificant."
"The company expects to record a non-cash, pre-tax charge of approximately $12.3 million in the fourth quarter of 2018 to reflect the write down of the total investment in Xpress Internacional, which U.S. Xpress had operated since 2007," the company said in its announcement.