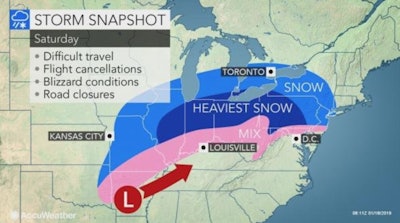 Drivers hauling heating fuel and other essential supplies in 12 midwestern and eastern states are receiving a reprieve from hours of service regulations in anticipation of the upcoming winter storm expected in the region.
The Federal Motor Carrier Safety Administration issued a Regional Emergency Declaration that includes Illinois, Indiana, Ohio, Pennsylvania, New York, New Jersey, Connecticut, Rhode Island, Massachusetts, Vermont, New Hampshire and Maine.
The declaration waives hours of service regulations for drivers transporting heating fuel such as propane, natural gas and heating oil, and other fuel products, including gasoline and diesel.
The Winter Storm Harper is expected to bring blizzard conditions to the affected states, dumping as much as 40 inches of snow in some areas over the weekend, according to Accuweather.
The Weather Channel predicts parts of interior Northeast and New England are likely to have between one and three feet of snow. Icy conditions are also expected on roadways as rain becomes freezing rain or sleet.
Pennsylvania Governor Tom Wolf has signed a state of emergency declaration, which enforces speed limit restrictions and bans on commercial traffic, ahead of this weekend's storm: https://t.co/saLbJLJXV4 pic.twitter.com/XIa0QOqYxE

— AccuWeather (@breakingweather) January 18, 2019
Snowfall of 12-24 inches will be more common in the heaviest band from the upcoming snowstorm. However, close to 30" of snow is likely to fall on parts of central and northern New York state to perhaps the northern tier of Pennsylvania: https://t.co/XAe3N3nLI5 pic.twitter.com/f8DwHpJbUY

— AccuWeather (@breakingweather) January 18, 2019
Huge swath of snow coming with #WinterStormHarper this #weekend.
Then, bitter #cold, even for parts of the south!
Stay with @weatherchannel for continuous live reports. pic.twitter.com/ZKGxcCIuBt

— Kelly Cass (@kellycass) January 18, 2019