CCJ's Indicators rounds up the latest reports on trucking business indicators on rates, freight, equipment, the economy and more.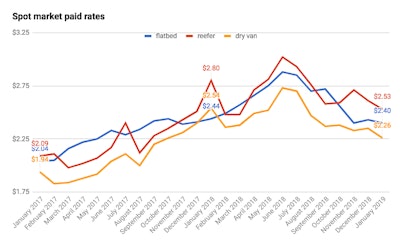 Truckload rates in the three major segments (dry van, flatbed and reefer) fell month to month in January from December, according to national per-mile spot market rate averages provided by Truckstop.com. The declines are in line with seasonal trends but also indicate a continued cooling in conditions that caused rates to spike to record highs in 2018. What's more, for the first time since rates began trending upward in mid-2017, rate averages were down year over year in January.
According to rates data provided by Truckstop.com, flatbed's national average per-mile rate was $2.40 a mile — down 3 cents from December and 4 cents from January 2018. Since June 2018, the segment has slipped 48 cents a mile, according to Truckstop.com data.
Reefer rates in the month slipped 8 cents, to $2.53 a mile. Compared to last January, reefer rates on the spot market were down 27 cents, and the segment's average is down 49 cents from its June 2018 high.
Lastly, van rates in January were down 9 cents a mile, to $2.26. That's a 28-cent dip from January 2018. Van rates were down 47 cents from their June 2018 high.
Meanwhile, trucking employment continues to grow. According to the Department of Labor's monthly employment report, the for-hire trucking industry added another 3,600 jobs in January. Trucking employment has now grown in every month since September 2017, except for last April. In that time, industry employment has grown by 58,400 jobs to a total of 1.5149 million on a seasonally adjusted basis, according to the DOL.
The economy as a whole added 304,000 jobs in January, but the country's unemployment rate ticked up to 4.0 percent.
The broader transportation and warehousing sector added 26,600 jobs, on the heels of a major hiring surge in the warehousing sector. Manufacturers added 13,000 jobs in January, according to the DOL, and the construction industry added a whopping 52,000 jobs.