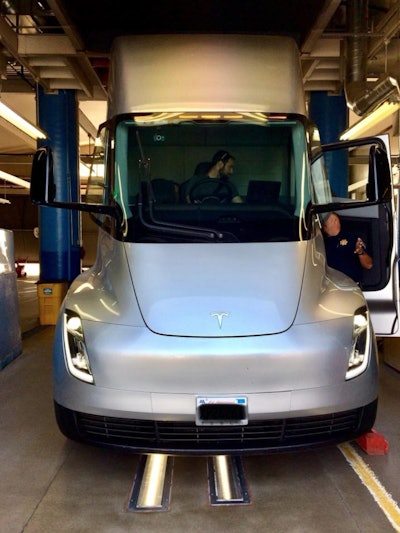 Electric vehicle maker Tesla on Monday notified shareholders and the Securities and Exchange Commission that, in exchange for nearly 50,000 shares of Tesla stock, the company has acquired portions of Central Valley Auto Transport's car-hauling fleet.
Central Valley, based in Strathmore, Calif., operates a fleet of 95 trucks, according to public information within the Federal Motor Carrier Safety Administration's Safety Measurement System program. Tesla's notice to the SEC did not specify how many trucks, trailers or drivers it has acquired from Central Valley, only noting that Tesla had purchased "certain car-hauling trucks and trailers."
At the proposed rate of $277 a share, the acquisition is worth about $13.8 million, according to the SEC filing.
Monday's filing follows up on an announcement posted to Twitter in November by Tesla founder and CEO Elon Musk that the company had "acquired trucking capacity" to help hasten deliver of its Model 3 electric sedan. The Model 3, billed as Tesla's entry-level option, has been plagued by production snafus and late deliveries. It was unclear in Musk's November tweet whether the company had acquired trucks in order to deliver parts and components to its plants to help boost build rates or whether the acquisition centered on car hauling and delivery of completed Model 3 units.
Per the notice to shareholders, it appears to be the latter.