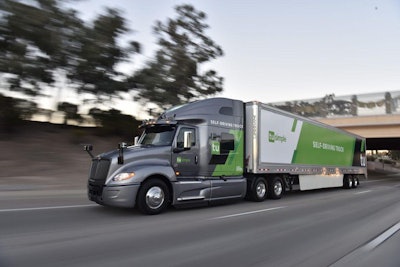 Autonomous truck tech developer TuSimple said Tuesday is has engineered a proprietary automotive-grade camera and vision system that will go into volume production in the coming months, and will be deployed on the company's autonomous customer fleet later this year.
Featuring a state-of-the-art automotive CMOS image sensor from Sony Semiconductor Solutions Corporation, TuSimple Vice President of Product Chuck Price says the custom-designed camera system – TuSimple's entry into hardware design – enables reliable autonomous operation at night and low-light conditions.
Adding nighttime visibility to TuSimple's perception system, Price says, will allow fleets to boost utilization rates beyond the driver's Hours of Service clock once autonomous legislation catches up with system capabilities.
"This is now a 24 hour capable solution," he says. "We should be able to increase industry utilization to above 80 percent, which means the average utilization in terms of hours goes from about 10 to about 20."
Using Sony's automotive CMOS image sensor to create a set of camera systems for short, medium and a long range of up to 1,000 meters, TuSimple's software will detect and process the images in real-time. Price says the new system capabilities also address complex imaging challenges such as instant light changes when entering and exiting tunnels, flaring during sunrise and sunset, and headlight glare.
In a less sophisticated system, Price says the sudden transition from light to dark – in the case of exiting or entering a tunnel, for example – causes a period of "camera blindness" that can last several seconds. But the new TuSimple system eliminates that brief period, "instantly adjusting so that you don't go blind," he adds.
It also handles the LED flicker created by digital signage and traffic lights.
The new camera system, Price says, was designed for the company's fully-autonomous Level 4 trucks and is an important component of TuSimple's ability to scale, especially as the company moves beyond validation phase.
This new camera system is designed to Automotive Safety Integrity Level (ASIL)-C, which Price says is important for the validation of safety-related electronic systems that must be highly reliable in specific driving conditions as outlined in the ISO 26262 Functional Safety standard. As the system integrator, Sunny Optics will test the product and module, as well as develop and manufacture the automotive-grade product.
TuSimple's self-driving trucks utilize cameras, lidar and radar to see 360 degrees around for a pixel-level interpretation of the visible environment. TuSimple vehicles have three centimeter of control precision in all weather conditions.
TuSimple uses its own fleet to validate their autonomous technologies and will roll the new camera system in the months ahead. TuSimple currently hauls for-profit freight for 13 contracted shippers in those shipper's established lanes around Arizona. Price says the company will soon expand along Interstate 10 through New Mexico and into Texas with plans to increase its U.S. truck fleet to 50 units by June.
In those deliveries, a driver sits at the wheel but doesn't provide steering or pedal input. They are accompanied by a safety officer who helps monitor the system and ensures the driver remains engaged at all times.
Having already secured $95 million in funding, and running daily autonomous trips hauling freight, Price says the company is on its way to achieving its goal of logging its first driverless operations by the end of next year.