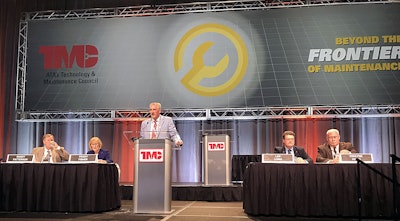 Considering that tires burn through a maintenance budget faster than almost everything else, it makes a great deal of financial sense to not jump blindly into decisions when it comes to a mounting a fresh set of rubber.
Tire performance gets a little better – more fuel efficient with extended miles to removal – every few years, but without an effective strategy to test and track over their lifecycle reaping maximum benefit is often nothing more than dumb luck.
"In the early days, we threw a few tires out there and said, 'How'd they run," says PIT Group Consultant Dwayne Haug.
"In the real world, conducting a tire test is a challenge and can be a real pain in the butt," Tirestamp President Peggy Fisher adds. "Stuff happens. Tires get damaged, retreaded or not put back on the vehicle. But running a test is more than just saying, 'Let's throw a set of tires on a truck and see what happens.'"
Fisher says tire tests are helpful to compare brands, find the best fuel economy among various brands, determine which brands can be retread more or better than others, evaluate various pressure settings, gauge the benefits of a tire inflation system (TPMS) or to compare different TPMS platforms.
Randy Patterson, senior field engineer for Bridgestone Americas Tire Operations, says it's best to clearly define your goals for the test before it starts, whether that is finding the best tread life, best fuel mileage, puncture resistance or casing retreadability.
"Don't put tires on the ground just so the salesman will leave you alone," he says.
Fisher says any test must have a control group. You can't expect a successful test with widespread wholesale changes.
"Test group size is very important," Fisher adds. "You have to have 30 tires at the end of the test for statistically significant and repeatable results, which means you're going to have to start with more than 30."
The vehicles should be identical but if different trucks are needed for scale, Fisher says varying specs should be equally represented in both the test and the control group.
"When you set up a test, it's really hard to say 'this will work in all my applications'," says Southeastern Freight Lines Director of Fleet Services Lee Long, adding SEFL will have more than 90,000 tires on the road on any given day.
Loads for all vehicles should be similar and trucks should run similar routes. Wheels – the use of aluminum or steel – should be consistent across both groups.
Long suggests partnering with tire manufacturers, even using their facilities when possible, during a test.
"Screen out drivers known for unusual driving habits," Fisher says, but Patterson says it's important the test reflect results from groups other than the fleet's best drivers.
"If you put all your test products with your best drivers, do you think you're going to get the best mix of results," Patterson says.
Patterson adds it's critical to evaluate tires during normal operation conditions and Fisher says fleets shouldn't change their tire maintenance practices – like rotation – during the test. If adjustments are made, they should be rolled out to all trucks in the test.
"You want to take tread depth measurements at regular intervals," Fisher says. "It might be wise to have one person do this."
Irregular wear and driver comments should be noted for consideration during overall analysis. Damaged tires should be repaired and remounted to their original position. In cases where this isn't possible, Fisher says the truck should be removed from testing.
Indications of tire performance may be noted when tires are at least 50 percent worn, "because tires wear faster when they're new," Fisher says, but adds final determinations should only come after actual removal mileage.
"Product evaluations are hard," Patterson says. "The more effort you put upfront, the better off you'll be in the end. If you put bad data in, if bad data is collected, then you'll have bad data at the end."
Data that falls out of line with the rest of the test results, Long says, possibly reflects an opportunity to evaluate your data collection process.
Fisher suggests letting all parties who may touch the test tires during the duration of the trial communicate with one another, establish a process for handling removed test tires and assign responsibilities for collecting data. Patterson says if test data is written on the tire itself, when the tire is removed and racked there's a high probability that it will be lost forever before a final inspection can take place.
Parts management, maintenance management and shop management and shop personnel, dispatchers and drivers should all be involved, Patterson says.
"Who at the dealership has to be involved," Patterson asks. "Then your commercial sales rep. He needs to know what's going on. Then your dealer service personnel."
Information about how to run a test is readily available from tire manufacturers, TMC's RP230 and various consultant groups.