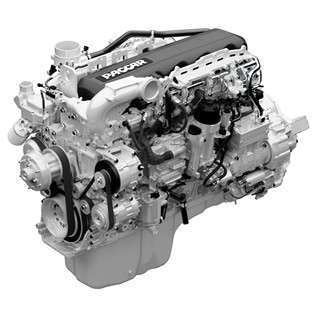 Kenworth has added two new ratings for the 12.9-liter MX-13 engine.
The first new rating of 405 hp and 1,650 lb-ft of torque provides constant power for line haul applications, enhances integration with the PACCAR Powertrain, and offers increased fuel efficiency.
The second is a multi-torque 455 hp rating with 1,650/1,850 lb-ft of torque that is optimized for fuel-conscious heavy haul fleets and truck operators. This rating provides additional torque in the top two gears while pulling a load up a hill, eliminating the need to downshift.
As a result, the Paccar MX-13 engine now offers ranges of 405 to 510 hp and 1,450 to 1,850 lb-ft of torque.
In addition, Kenworth now offers a variable speed fan clutch as on option for the 10.8-liter Paccar MX-11 engine for the Kenworth T680 and T880. The clutch maximizes engine power to the drive axle, helps prevent under- and over-cooling in all climates, and provides faster warm-up and more efficient air conditioning.