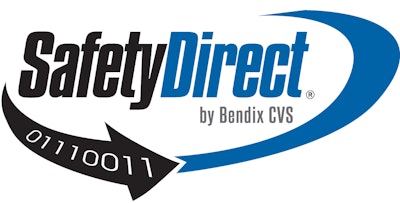 Bendix Commercial Vehicle Systems has introduced a new mobile application for its SafetyDirect system that pairs the company's leading-edge hardware and current SafetyDirect online portal to enhance fleet visibility to driving performance.
The news was announced at ATA's Technology & Maintenance Council (TMC) Annual Meeting this week in Atlanta.
SafetyDirect by Bendix CVS is company's the user-friendly web portal that provides fleet operators with comprehensive feedback on their fleet and drivers, along with videos of severe events. The system wirelessly transmits real-time data and event-based information from a vehicle's J1939 network to the fleet's back office for analysis.
In developing a new app to complement the online tool, TJ Thomas, Bendix director of marketing and customer solutions – Controls, says Bendix CVS focused on providing much of the same information found in the web portal in an easier to access and digest mobile format. Though showcased this week, the app is part of a phased introduction of new features and advanced functionality for SafetyDirect expected to occur throughout 2019.
Thomas says the new app is called SafetyDirectMobile.
The app "is fully compatible with our powerful new fifth-generation SafetyDirect processor and our AutoVue LDW 5G platform, and it has been developed to enhance the new features provided by our new hardware," he says. "It means when you are standing next to the vehicle, you will be able to directly connect to the SafetyDirect processor – using Wi-Fi – and stream SafetyDirect video directly to the app. That's a very powerful tool – and an industry first."
In addition to enabling full SafetyDirect access, the forthcoming SafetyDirect Mobile app will also allow drivers to securely identify themselves in the vehicle.
"Informed fleets and drivers help enable safer fleets and drivers," Thomas says. "The easier we can make it to reinforce good driving, sharpen training programs, and support the men and women behind the wheel, the safer our highways become."
Other advancements to the SafetyDirect system include a high-resolution forward-looking camera, continuous video recording (DVR), increased computing power, on-board connectivity and cyber security, and an optional in-cab driver-facing camera supported by SafetyDirect.
"Today's advanced safety systems generate an incredible amount of truly valuable information – including video – and these tools will further enable fleets to make the best and most efficient use of this data in their safety and driver training efforts," Thomas says.
Bendix adds current and future generations of SafetyDirect are part of the suite of advanced safety technologies available today within the Bendix Retrofit Upgrade Program, a unique, first-of-its-kind program that enables professional installation of an expanding portfolio of Bendix safety solutions to upgrade vehicles that did not come factory-equipped.
The company says its program features two key elements: a comprehensive website that enables vehicle operators to determine retrofit opportunities per vehicle; and an escalating network of Bendix Authorized Retrofit Dealers and Distributors (ARDs) to facilitate the professional installation.