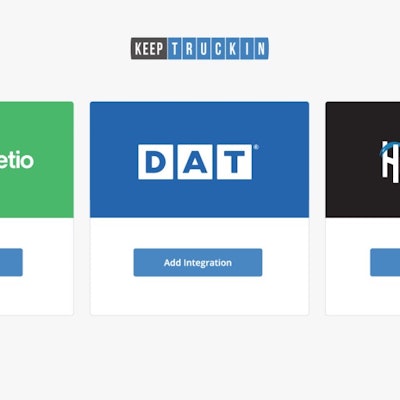 On Tuesday, Nov. 6, electronic logs and fleet management platform supplier KeepTruckin announced the launch of a central KeepTruckin App Marketplace.
Drivers and fleet manager customers of KeepTruckin can visit the marketplace to "flip the switch" on integrated products that extend functionality of the KeepTruckin platform, says Shoaib Makani, founder and chief executive.
KeepTruckin was founded in 2013. Its first product was a free electronic logbook app for drivers that could be used by fleets for tracking. The company later developed ELD-compliant hardware and software and most recently added a road-facing Smart Dashcam option that records safety-critical events.
Today the KeepTruckin ELD is deployed in 250,000 trucks and more than 500,000 drivers in North America are using either its ELD or electronic logbook app.
Being connecting to so many vehicles and drivers through the ELD offering has "unlocked a bunch of data" that its customers can now use for fleet management applications, he says.
The online marketplace will provide information about how data recorded by the KeepTruckin platform is privately shared with third-party applications and services and how they use it, he notes.
"Customers use our App Marketplace as a one-stop shop where they can access exclusive integrations offered by our KeepTruckin Partners," said Charles Julius, head of product for KeepTruckin. "Teaming up with other industry leaders is the next step in expanding how KeepTruckin's modern fleet management solution grows with your business to meet any customer's evolving needs."
The menu of "one click" integrated options in the marketplace include products and services from:
Dispatch systems, such as McLeod Software, for sharing real-time status updates, messaging, and location data (GPS) to track driver's availability and manage loads.
Brokers, such as Coyote and TQL, as well as loads boards and load tracking services from p44 and FourKites. By sharing location and other data with third-parties, drivers and fleets can more efficiently find freight and share update shipment status.
Insurance companies, such as Progressive, for sharing driving data to receive more accurate insurance rates through programs like Progressive's Smart Haul. New qualifying truck customers that use an ELD and sign up for Progressive's Smart Haul can save an average of $1,384 on their Commercial Auto policy premium for the initial policy period.
Fleet maintenance software, such as Fleetio, for automatically populating diagnostic trouble codes and odometer readings.

Technology suppliers can Apply here to become a KeepTruckin partner.