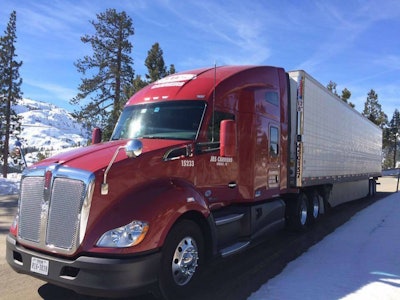 A Colorado-based trucking company has agreed to pay $250,000 as part of a settlement for a disability discrimination lawsuit filed by the U.S. Equal Employment Opportunity Commission (EEOC).
EEOC's lawsuit alleged that JBS Carriers (No. 147 on the CCJ Top 250) contracted with a third-party pre-employment screening company for truck driver applicants. EEOC alleged ErgoMed Work Systems' process "unlawfully screened out people with disabilities who were qualified for the truck driving jobs they sought."
JBS has not responded to inquiries for comment on the settlement.
According to EEOC, JBS Carriers will pay $250,000, which will be distributed among five people who were allegedly discriminated against and participated in EEOC's investigation. The company has also stopped using ErgoMed for pre-employment screening and now just requires applicants to obtain a DOT medical certification.
JBS is not allowed under terms of the settlement to contract with ErgoMed for three years and will not implement any physical or medical screening for conditional hires apart from the DOT med cert and a urine analysis.
"We applaud the efforts by JBS Carriers to reach an early resolution with the EEOC that provides both meaningful monetary relief and important equitable relief," said Regional Attorney Mary Jo O'Neill of EEOC's Phoenix district office. "The company's willingness to cease the screening practices at issue shows a commitment to ensuring that all individuals qualified for a job have a level playing field and an equal opportunity for hiring."
EEOC's lawsuit alleged ErgoMed's screening subjected all applicants to a medical history questionnaire, a physical exam and nine physical abilities tests, and if an applicant failed any one of the tests or was prevented by ErgoMed from taking the tests based on information from the questionnaire or physical, the company sent JBS a negative job recommendation. The lawsuit also alleged JBS then withdrew conditional job offers based on ErgoMed's recommendations.