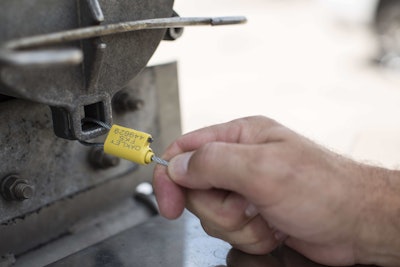 Drivers don't have a lot of input on their company's anti-theft strategy but they do play an important role.
EPIC Insurance Brokers and Consultants Vice President of Transportation & Logistics Risk Control Michael Nischan says vehicle inspections, along with precise monitoring of Hours of Service status, are good measures that keep the truck moving and reduce the likelihood of theft.
"Make sure the company has good pre-trip and post-trip inspection processes, good loading and unloading processes, that [the driver] sticks to maybe a 200 mile red zone – doesn't stop within 200 miles if it's a high-target type of commodity – those type of things all in unison," he says. "It's up to that driver to follow policies and procedures, to be consistent and to never make exceptions."
CargoNet analysis of theft data the week of Thanksgiving last year showed the highest number of thefts occurred on Wednesday, when many drivers parked their trucks for the holiday.
Many of those thefts occurred in areas that were less occupied over the break like warehouses, parking lots and truck stops.
California was home to the most reported thefts in 2018, accounting for 26 percent of total thefts for the year, despite having a 9 percent drop in thefts compared to 2017. Texas claimed the second spot with 15 percent of total thefts, followed by Florida with 11 percent. Illinois saw a sharp 72 percent increase in theft rate and rose from sixth overall in 2017 to fourth in 2018 with 10 percent of the total. Georgia rounded out the top five with 8 percent of thefts, a 10 percent decrease from the previous year.
In working through security measures, Nischan says to be mindful of where drivers stop for rest breaks, adding carriers should ensure that the driver has sufficient food on-board to limit the times they would need to stop for snacks and drinks.
Regardless of what security features a fleet deploys, Nischan says it's important to take all perceived threats seriously.
"[If] there is there ever is any question about a driver that feels he's being followed or maybe he approaches his destination, it's late at night and there's a vehicle parked not far from the facility with a few folks inside and it looks out of the ordinary, maybe just don't stop," he says. "Maybe just keep going. If it looks unusual, always follow your gut and at least investigate. You can trust, but verify."
All security is personal and carrying a firearm is a widely popular method of personal protection. Concealed carry and Second Amendment rights are currently among the hottest of political buttons but regardless of what the Constitution says, a carrier's firearm policy could trump the right of a driver to carry a weapon in the truck.
"That's really [the fleet's] property and they have the right to determine what their policy is with regards to trucks and firearms in the vehicle," says Interstate Trucker President Brad Klepper. "That is company property."
There's also the consideration of crossing state lines with a firearm. Just because a driver is legally licensed to carry in one state, those rights don't universally carry over in every state. While the Second Amendment is federal, Klepper says how it's applied within each state is up to the states themselves.
"If you're going to start carrying in your truck, you better damn sure know what your carrier's policy is and the laws of each and every state you're going to roll through," he says.