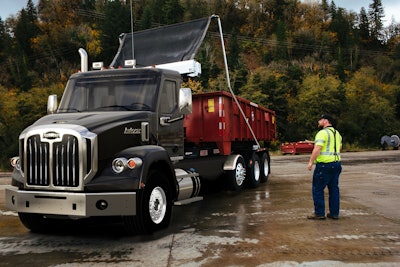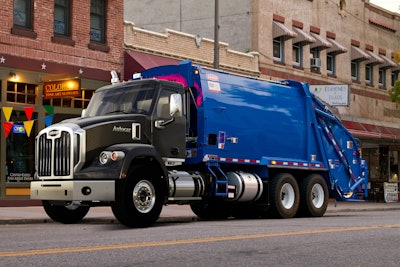 Autocar Trucks this week introduced its DC-64R, a purpose-built severe-duty refuse truck and first new conventional truck for the Autocar brand in 31 years.
The Autocar DC-64R (the R stands for refuse) is the first truck to feature ultra-high-strength 160,000 PSI steel frame rails, which Autocar says is 24 percent stronger and lighter than the rails on other trucks on the market, and eliminates the need for frame liners in nearly all refuse applications.
Autocar Trucks Managing Director Eric Schwartz says the workspace of the cab maximizes productivity for drivers of all body types, with everything visible and within easy reach.
"The cab also easily fits three, so work crews can get to and from their routes comfortably. Our unique raked windshield provides exceptional visibility for safety," he says. "[T]he interior uses authentic materials like a full steel structure inside the dashboard and aluminum sheets as dash panels. Even the interior door handles are aluminum tubes, not plastic. The totally new cab structure is built from a combination of steel, judiciously chosen aluminum components, and corner castings to withstand years of refuse abuse."
"One of the things we're most proud of – because it will make a big difference in our customers' business – is our totally upgraded electric system to resist the worst the garbage business can dish out," adds Autocar President James Johnston. "The DC also brings our customers the Autocar Always Up display, with game-changing 'one-touch diagnostics'. It actually tells the operator or technician what fault has occurred and shows them how to fix it. It gets trucks back into service and making money faster than anything anyone has had before."
The DC-64R joins the ACX and ACMD cabover trucks and the ACTT terminal tractor, as Autocar's fourth line. The new truck also represents the rebirth of Autocar's DC, first introduced by The Autocar Company in 1939 as its premier severe-duty and, revolutionary for the time, diesel-powered work truck.