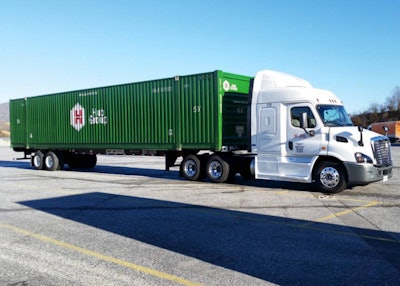 Hub Group (No. 21 in the CCJ Top 250) announced May 16 that it will now provide end-to-end visibility of its shipments, allowing its loads to be viewed on a granular level in real-time and access to load ETA.
The company says it will leverage its fully GPS-equipped container fleet, railroad data and a combination of artificial intelligence and machine learning technology to provide accuracy. Machine learning allows Hub Group to constantly analyze the transit of freight, considering more than 10 million data points to provide continuous, real-time arrival updates. The system will give Hub's customers data about specific routes and allow for more accurate planning, the company says.
"As the supply chain grows increasingly complex, our customers need accuracy and visibility at every step," said David Yeager, CEO, Hub Group. "We're combining our nearly 50 years of supply chain solutions experience with emerging technology to raise the stakes on what a sophisticated supply chain should look like, delivering the real- time, trusted ETA data essential for our customers' success."
Hub's data capture and use of Internet of Things technology allows for a more in-depth look at load ETAs and estimated time to ground (ETG) through the lens of historical and real-time data. Inputs are continually updated based on transit events, truck speed, traffic and weather conditions, as well as other variables. The real-time information is delivered to Hub's customers via API, EDI feeds or Hub Group's customer portal, Hub Connect.