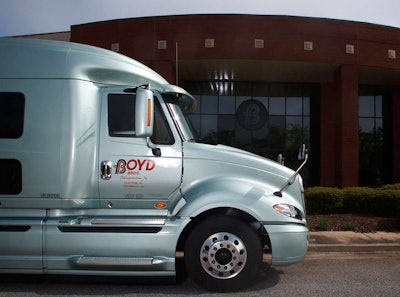 Lytx announced that Boyd Bros. Transportation has renewed and expanded its contract for the Lytx Driver Safety Program.
Boyd Bros. is an Alabama-based flatbed trucking fleet that hauls steel and building materials. The company signed a three-year renewal of its current 565-unit deployment, as well as a 200-unit expansion to complete the implementation of DriveCam Event Recorders across its fleet of 650 tractor-trailers.
An early adopter of video-based fleet safety technology, Boyd Bros.' plans to increase operational efficiencies and safety behavior with the expansion of Lytx services.
"Lytx's Driver Safety Program is a great fit for the company and our drivers," said Jeffrey Hopkins, vice president of safety, training, and risk management at Boyd Bros.
Boyd Bros.' most recent investment in the Driver Safety Program is the Lytx Video Platform that gives users access to video to obtain critical video facts they need in minutes. In addition, Boyd Bros. is able to achieve efficiencies by reviewing video footage.
The Driver Safety Program uses the DriveCam Event Recorder to capture short video clips that are reviewed by professional analysts who are trained to spot behaviors that were occurring at the time of the trigger. These clips are sent to Boyd Bros. where coaches share them with drivers to help improve driving behavior by making them more aware of their habits on the road. Boyd Bros. can also generate insight reports to help the company recognize driving trends in their fleet.
"Because our drivers are faced with so many distractions, the Driver Safety Program has been vital in helping us to more effectively communicate with our drivers," Hopkins said. "Lytx video clips are eye-opening for both managers and drivers. Video evidence empowers us to explain to our team that we know their job is difficult and many factors are at play in every incident, but here's what you can do to be the absolute best driver possible."
Boyd Bros. has seen increased driver retention through its coaching program, he adds. "With Lytx, we are demonstrating a commitment to our drivers by investing in their capabilities and working with them to become safer and more effective."