One solution to the driver shortage is to hire applicants with higher risk profiles than would have previously been considered. To offset the added risk, fleets are putting new safety technology and programs to work.
The strategy has been working for less-than-truckload and truckload carrier Fast Way, which operates more than 50 trucks and 200 trailers serving the Inland Northwest region of eastern Washington, northern Idaho and western Montana.
The Spokane, Wash.-based fleet generates about 100,000 shipments a year for about 500 customers.
"We're laser focused on safety and in that respect we're light years ahead of we were," says Co-Owner and President Jeff Bosma. "It not only helps for the lesser qualified drivers, but also makes existing employees that much better."
The company makes the core values of its safety program clear to drivers at the start.
"When I'm talking to a new hire about our safety program, I explain that it's something we do to satisfy our insurance company, but it's more important than that because our employees are our family, and we want to keep them safe so they are able to have a long career with our company," says Safety Manager Tom Pineda.
With new trucks, the company is investing in upgraded safety features such as disc brakes and camera-based driver assistance and collision mitigation technologies.
On average, the Fast Way fleet runs 1.8 million miles a year — typically each truck travels 200 to 300 miles a day in local and regional operations. According to Pineda, in 2018 Fast Way improved in all USDOT safety categories by an average of 31.5 percent.
"Safety permeates into all aspects of the operation," he said. "When drivers are thinking about being safe, they're not as hard on equipment. Even something as seemingly insignificant as not slamming the trailer door or making sure to not bump a loading dock, can have an impact on maintenance."
The company works with a diverse range of customers and has a wide variety of safety requirements for drivers. Serving customers with very different needs makes it challenging to manage training requirements.
"Oftentimes, when a new client requests a delivery, one of the first questions they'll ask is about the safety policies already in place," Pineda explains. For example, some facilities require drivers to take an in-house safety test before being allowed onto the property.
To accelerate safety training and more easily deploy it to drivers in the field, Fast Way decided to incorporate CarriersEdge online training in 2018.
"Every arrow in my quiver is tied together, and CarriersEdge is easy to integrate with our strategy because there aren't any missing components," Pineda says. He describes the online training modules as "modern and professionally made," and interactively engaging to drivers.
Drivers that complete the CarriersEdge programs are having an easier time being certified and spend less time going through this process to save time on their routes, he noted.
"I like that you're not just staring at the screen, but instead, have to work through the programs and complete the pop quizzes along the way," Pineda says. "Drivers don't like to just sit — as soon as they think something doesn't apply to them, they're done."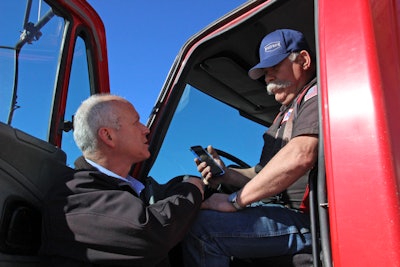 Fast Way encourages drivers to do training on the clock and has a dedicated computer at the terminal for CarriersEdge courses. Drivers can also view the library of orientation, refresher and compliance courses and knowledge tests any time on their mobile devices when the have moments of downtime on the job.
The company's completion rates show they are reaching 76% of their drivers in a month, and 92% in a quarter.
"One of the benefits with CarriersEdge is that it allows me to track completion rates, and to see which questions, if any, my guys are having trouble with and in which areas we need improvement," he said. "As a one-person safety department, being able to easily handle multiple functions with one program save valuable time, so it is well worth the investment."