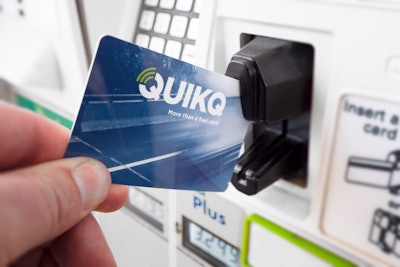 Market valuations of electronic fleet payment providers for fuel and other over-the-road expenses have been extraordinarily high. In 2014, Comdata was acquired by Fleetcor for $3.45 billion. In 2015, WEX purchased Electronic Funds Source (EFS) for $1.1 billion, and three years earlier it bought Fleet One for $369 million.
These blockbuster acquisitions explain why Love's Travel Stops and TravelCenters of America have decided to make a strategic investment in QuikQ, a privately-owned fuel payment provider, to increase competition in the market.
Love's and TA's were already working with QuikQ to run private-label fuel card programs. QuikQ has been working with Love's since 2011 for its Love's Express fuel card, and with TA since 2017.
On Tuesday, July 9, QuikQ announced new investments from Love's and TA but stressed that the company will continue to run independently.
The financial backing from Love's and TA will help QuikQ to continue its growth and expansion in the fuel payments marketplace, the company said in a press release.
"This tells people we are here for the long run," said Dean Troester, chief executive of QuikQ, during a call with CCJ. Troester is a 36-year trucking industry veteran who previously worked as chief financial officer of Crete Carriers before joining QuikQ in early 2017.
"From our perspective, I feel like we are bringing further competition into the field. I feel that is good for the industry. It is good for truck stops and fleets. Both are our customers," he said. "Our whole thought process is to have a low cost solution and by that I mean low cost on the expense side to offer a lower cost for merchants and fleets."
QuikQ entered the market in 2010 with a card-less fuel program that uses radio frequency identification technology to initiate transactions at the fuel terminal. Instead of requiring the presence of a card to facilitate the process, the system lets fleets install RFID tags in each of their vehicles. The tags activate fuel terminals at approved locations as the vehicles pull alongside them.
QuikQ also offers a fuel payment card along with Start Code, a card-less payment solution where drivers enter a PIN number at the fuel pump. For fleets and drivers, QuikQ products include Q-Checks, cash advances, payroll cards and a mobile app.
Behind the scenes, QuikQ's payment technology integrates with the point-of-sale systems at fuel stops and with fleet's back-office systems. Fuel transactions can be processed for fleets either as a direct bill with fuel stops or as a funded transaction via a fuel card, he explains.
At present, Tennessee-based QuikQ has a nationwide network of more than 3,400 chain and independent merchant locations, with long-term agreements with all of the country's largest truck stop operators.
"QuikQ has been the successful, cost-effective backbone of our Love's Express payment platform for many years. A large segment of our customers have benefited from the convenience and savings QuikQ's technology provides, and QuikQ can deliver the same advantages across the trucking industry," said Frank Love, co-CEO of Love's and Speedco. "QuikQ offers trucking companies another choice."
"With the financial support of two of the truck stop industry's largest players and nationwide merchant acceptance of its products, QuikQ is positioned to add competition to the fuel payment industry, improve customer service, and reduce fees to merchants and fleets," added Andy Rebholz, CEO of TA. "Competition is needed, and QuikQ is positioned to positively impact merchants and trucking companies alike."