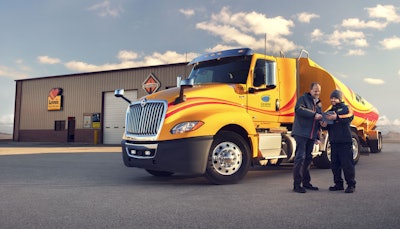 Navistar announced Thursday it has signed a service partnership agreement with Love's Travel Stops, adding more than 315 Love's Truck Tire Care and Speedco locations – and 1,000-plus technicians – to the International truck service network.
The exclusive partnership, which is slated to be fully operational by the second half of this year, authorizes most Love's and Speedco locations to handle a range of new, extended and used truck warranty work and will be authorized to perform warranty service with repair times of three hours or less on all International Class 6 through 8 trucks.
Navistar President of Truck and Parts Michael Cancelliere says he expects the partnership with Love's will enhance customer uptime by expanding access to same-day service for light mechanical repairs and increasing repair speed.
Additionally, Love's locations will accept Fleet Charge cards, guaranteeing Navistar customers get consistent nationwide parts pricing.
The partnership between Navistar and Love's creates the largest service footprint in the commercial transportation industry and brings the International service network to more than 1,000 locations in North America.
"Navistar and the International Truck Dealers Council collaborated on this agreement to deliver industry-leading uptime to our customers," says Steve Hill, chairman of International's Truck Dealers Council. "The expansion of our channel capability to more than 1,000 service locations will give fleets and owner operators another reason to choose the International brand and dealer network to meet their transportation needs."