A group of seven Caterpillar dealerships have formed the RIG360 independent truck service centers network, designed to provide an all-makes approach to truck parts and service. The network initially will consist of 65 locations with 450 service bays across 12 states, with potential for other Cat dealers to join.
The RIG360 network has a "90-Minute Promise," which states it will make an initial diagnosis of a truck's condition, troubleshoot the issue, and deliver a verdict within 90 minutes. Within an additional 90 minutes customers will receive an initial estimate on cost and time to repair.
"These dealers liked the on-highway business and wanted to stay in it," says Ed Cullen, strategic consultant. "They had the facilities, the people and the training, and they also recognized there's a lot of power in working together."
Cat announced it would exit the on-highway diesel engine business in 2008 and had short-lived foray into vocational trucks, which ended in 2016.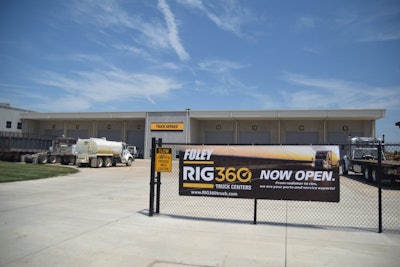 Initial RIG360 participating Cat dealers are Cleveland Brothers Equipment, Foley Equipment, MacAllister Machinery/Michigan Cat, Ohio Cat, Thompson Machinery, Thompson Tractor and Yancey Bros. Other Cat dealers will probably join the network as the initiative progresses, Cullen says. Caterpillar itself has no affiliation with or investment in this venture.
"In doing our research, we found that folks can bring a truck into a repair facility and it will sit there," Cullen says. "So we decided to make a commitment that if someone comes into a shop we'll give an initial diagnosis so they can make an informed decision about what to do next. They'll know where they stand within the first 90 minutes."
Cullen says RIG360 also offers truck owners necessary service capacity. "With all the vertical integration that's happened in the trucking industry, there's been a strain on the truck manufacturer's dealer networks. We've got the bays and we've got the technicians, so that really positions us well to be able to turn trucks around more quickly."
Each dealer has its own identity in the network, such as Cleveland Brothers RIG360 Truck Centers and Foley RIG360.
"We are excited to help form and launch the new RIG360 network and bring even more truck parts and service capabilities to our customers," says Jon Robinson, vice president of Foley Equipment and RIG360 board chair, in a release announcing Foley's participation in the network. "Combined with our HDA Truck Pride launch last year, we have expanded our ability to serve all makes and models from radiator to rim, whether that is in Kansas, Missouri or beyond."