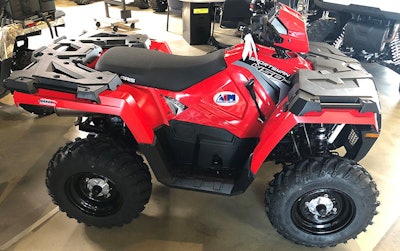 Aim Transportation Solutions is inviting any and all drivers to an event during National Truck Driver Appreciation Week, Sept. 14.
Aim Transportation Solutions, a provider of commercial vehicles and dedicated fleet services for more than 50 years, will host a Driver Appreciation Family Picnic on Saturday, Sept. 14, noon – 4 p.m., at 4944 Belmont Avenue, Youngstown, OH 44505, the site of Aim's headquarters.
Drivers and their guests will enjoy a cookout along with drawings for Visa gift cards every hour in addition to activities for kids. One Aim driver will win a brand-new 2019 Polaris Sportsman 450 (ATV), which will be raffled off at 4 p.m. that day and live-streamed on Aim's Facebook page (https://www.facebook.com/aimtransportationsolutions)
"I'd like to think that every week is driver appreciation week at Aim," says David Gurska, Aim Integrated Logistics COO and executive vice president. "These picnics are one of the many efforts Aim has to express our deepest gratitude for the tireless work and dedication of truck drivers."
A changing economic landscape has hit the Youngstown region hard over the last few decades, but Aim says it will continue to bring good-paying driving jobs and great benefits to the area, and it is looking to hire more drivers.
Aim will also be hosting picnics on Sept. 13 for its drivers in:
Chicago, IL
Gainesville, GA
Pittsburgh, PA