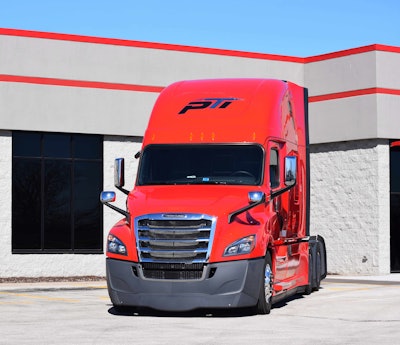 Three years ago, Paper Transport was using consumer-grade Samsung Galaxy tablets to deploy its custom-built driver scorecard, electronic logging and other mobile applications.
The durability of the devices had become a roadblock for the Green Bay, Wis.-based fleet.
In late 2017, Samsung introduced a rugged, enterprise-grade tablet, the Galaxy Tab Active2. The purpose-built device is able to survive excessive pressure, temperatures, vibrations and drops and has easy-to-replace batteries.
Peter Covach, director of IT for Paper Transport, credits the Active2 devices and Samsung's latest security and device management software for being able to rapidly scale its deployment of mobile technology.
Three years ago, the Green Bay, Wis.-based fleet had approximately 570 drivers. Today its Active2 tablets are used by 920 drivers.
"We took a potentially fringe use case and turned it into something a lot of people can grab onto," he says.
The tablets have proven especially beneficial for driver training.
Paper Transport uses an online learning management system (LMS) with a collection of interactive driver training courses from Luma. Drivers complete these courses from their tablets over the first 90 days on the job. The training is assigned in a sequential pattern, and drivers can use the online library to review information at any time.
By completing training outside the office, newly hired drivers can spend more time during orientation meetings with their support staff and completing the physical training requirements for the job, such as pre-and post-trip inspections and road testing. "The onboarding process is more about focusing on the driver," Covach says.
The company uses the LMS to push custom training content to drivers as well. Paper Transport recently created an ELD training video for drivers prior to updating its Omnitracs electronic logging software from the Automatic Onboard Recording Device (AOBRD) version to the ELD spec.
Paper Transport uses another interactive training app, Blackboard, to give drivers the option to participate in live quarterly training meetings through the tablet rather than in person. "They do not have to take time out of their already constrained schedule," Covach says.
Since using the Blackboard app, driver participation in the quarterly training meetings has increased from 30 percent to 95 percent, he says.
When drivers are assigned training or other tasks to complete, messages appear in the main workflow application, XRS from Omnitracs. Drivers click on links in the messages to open up their assignments in the corresponding app, such as a training course in the Luma app.
Also included in the workflow are links to Paper Transport's SmartETA application. Drivers can view a forward looking, simulated trip plan on a digital map for every work assignment. The mapped route shows their estimated arrival times at planned stops. SmartETA accounts for hours-of-service and other route constraints to predict live ETAs. In 2018, CCJ recognized Paper Transport as an innovator for this development.
Paper Transport is working to deploy another app that will give drivers access to HR functions such as requesting time off and viewing pay stubs. Drivers with an hourly pay structure will be able to clock in and out using the app.
The company plans to give drivers an internal job board as well to show opportunities listed by type of work and geography. Drivers will be able to receive job alerts when an opportunity that matches their interests becomes available, Covach says.
Using tablets to deploy new driver-focused technology is part of Paper Transport's philosophy to give drivers the same type of visibility, transparency and connectivity that employees in the office have, he explains.
For more information about Paper Transport's mobile strategy, see this case study that was recently published by Samsung.