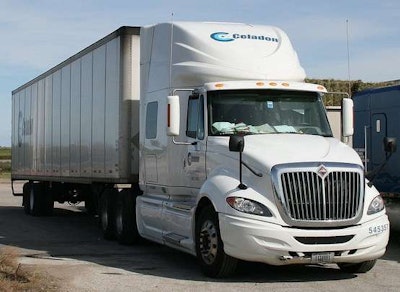 Celadon announced last month it has hired former Swift CEO Richard Stocking as Chief Transformation Officer of its trucking division, with his role intended to lead the company's turnaround efforts after the company's financial and legal struggles in recent years.
In addition, the Indianapolis-based company announced in late July it had secured $165 million in financing, which Celadon CEO Paul Svindland says will be used to restructure its debt and update its aging fleet of tractors and trailers. Celadon operates a fleet of roughly 5,500 trucks.
Svindland says the company will be replacing roughly 2,000 four- to five-year-old tractors with new units, which will lower the company's operating costs.
The New York Stock Exchange halted trading of Celadon stock in mid-2017 after the company pulled required financial filings. The company hasn't yet been re-listed on the NYSE and has instead been trading its stock over the counter, valued at $1.68 a share as of Thursday, Sept. 6.
Celadon pulled the forms after an independent auditor found major discrepancies in the company's financial reports, with Celadon later reporting that it had overstated its income by as much as $250 million for 2014, 2015 and 2016. The over-reported income was based on an alleged scheme in which former leadership at Celadon sold used trucks at an inflated price to third parties, then bought back the trucks at those inflated prices as a way to avoid recording losses on equipment sales.
The company has since restructured its leadership, and its former president, Danny R. Williams, is under investigation by the Securities and Exchange Commission, alleging he lied to investors and the company's Board of Directors about the truck sales scheme. Celadon also has shut down its subsidiary involved in the truck sales program, Quality Leasing.
The company hasn't filed quarterly earnings reports for any quarter since late 2017. In its most recent filing, for the first quarter of 2017, Celadon reported a loss of $10 million. Since, the company has paid a $42 million fine to settle a criminal probe brought by the Securities and Exchange Commission and the Department of Justice. The company also paid $5.5 million to settle lawsuits brought in the wake of its de-listing.