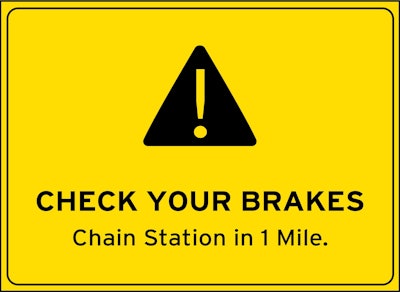 Drivewyze has added mountain corridor alerts to its Drivewyze Safety Notifications service, offered for free to subscribers of its PreClear weigh station bypass service with coverage at more than 800 locations, in 45 states and provinces.
The new service was announced in conjunction with a Colorado DOT's "The Mountain Rules" truck safety campaign.
With the alerts, Drivewyze subscribers will have their drivers receive in-cab alerts of upcoming safe locations to pull over for brake check inspections and see prompts to gear low while showing suggested maximum speeds down steep grades. It will also alert drivers of upcoming runaway ramps.
Colorado is Drivewyze's first state in the new alert program. Seven Colorado mountain passes are part of the Drivewyze Safety Notifications package, with 22 more states to follow by the end of August.
According to Brian Mofford, vice president of Government Experience at Drivewyze, Colorado's I-70 west, which goes from Vail Pass from the west, through Eisenhower Tunnel (elevation 11,158) to Mt. Vernon Canyon to the east, represents 60 miles of difficult driving.
"It's a challenge for truck drivers with steep grades and heavy traffic – especially for those new to mountain driving," he said. "Drivers have to be in tune with their surroundings, check their brakes and be prepared for constant downshifting and speed control."
"Our alerts will keep safety front and center and prompt drivers to check their brakes, allowing them to cool down, and remind them to downshift to a lower gear," he continued.
In addition to I-70, Drivewyze is providing alerts for Rabbit Ears Pass, Loveland Pass, Monarch Pass, Slickrock Pass, Wolf Creek Pass and Coal Bank Pass.
The mountain corridor alerts join two other Drivewyze Safety Notifications that were introduced last month. Rollover alerts, on targeted exit ramps and curves, are geo-fenced at 500 locations in 32 states, while 1,500 low bridge warnings are given to drivers approaching bridges in the United States, with 300 more just added on Canadian roadways.
For Dennis Atencio, Apex Transportation's vice president of risk management, the rollover and low bridge alerts, and now mountain alerts, are a welcome site. Apex runs 71 trucks in a flatbed operation out of Colorado.
"We signed up for them right away when they were first announced," he said. "What Drivewyze offers is an in-cab alert that is already tied into an ELD. Having our ELD and safety notifications all on one device simplifies everything, reduces distractions, and brings more safety awareness to the driver."
Both the Drivewyze PreClear weigh station bypass application, and the Drivewyze Safety Notifications service, are available to carriers on supported ELDs and other in-cab devices, through the Drivewyze partner network (https://drivewyze.com/drivewyze-on-your-eld/).