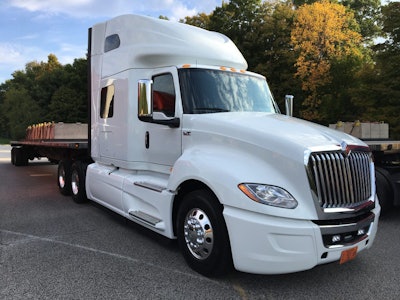 Navistar announced Thursday that it would pump more than $250 million into building a new manufacturing facility for its International Trucks in the State of Texas.
Contingent on the finalization of various incentive packages, the new facility is expected to bring approximately 600 jobs to the San Antonio area.
"Over the last five years, Navistar has made significant investments to improve our position in the market," said Troy Clarke, Navistar chairman, president and chief executive officer. "This investment will create a benchmark assembly facility to improve quality, lower costs and provide capacity to support anticipated industry growth, as well as market share gains."
The new manufacturing plant will build Class 6-8 vehicles and complements Navistar's existing assembly manufacturing footprint, which includes truck assembly plants in Springfield, Ohio and Escobedo, Mexico. The new investment builds on Navistar's recently announced plans to invest $125 million in the Huntsville, Ala., engine plant to produce next-generation, big-bore powertrains developed as part of the alliance with Traton.
"The new facility will have the flexibility to build Class 6-8 trucks incorporating the most advanced lean manufacturing practices, enabling lower conversion costs and an optimized supply chain," said Persio Lisboa, Navistar's chief operating officer.
The Texas site is located on a critical corridor along Interstate 35, linking Navistar's southern U.S. and Mexico supply bases and allows for significant logistic improvements, resulting in lower cost and enhanced profitability.
Navistar plans to break ground on the property later this year and anticipates production to begin approximately two years later.
Also Thursday, as part of the company's Investor's Day, Navistar unveiled its 2020-24 strategy – dubbed Navistar 4.0.
Laying out a plan to increase the company's EBITDA margins to 12% by 2024, Navistar 4.0 includes the following elements:
Grow market share and become the number one choice of the customer through new product offerings and customer segmentation;
Implement a single platform strategy to optimize use of R&D resources and commonization of parts and tooling;
Increase modular design resulting in customer benefits, speed to market and lower product costs;
Build a new truck assembly facility in San Antonio, reducing logistics and manufacturing costs;
Use the TRATON alliance to provide significant procurement savings, more efficient R&D spend and new integrated powertrain offerings for customers; "Our savings from the global alliance with TRATON are on track to yield $500 million in the first five years, with $200 million in annual savings by year five," said Walter Borst, Navistar's chief financial officer.
Grow Aftersales revenues with an expanding distribution network, growing private label sales and e-commerce initiatives;
Improve financial results allowing the company to invest in growth initiatives, de-lever the balance sheet and fully fund its defined benefit pension plans by 2025.
"Navistar is committed to building on the gains of the past five years to improve financial returns to shareholders," Clarke said. "Navistar 4.0 establishes a clear road map to grow EBITDA margins to 12%, while also winning in the marketplace."
2020 and longer-term financial guidance
In its presentation, Navistar also provided industry and company financial guidance for 2020, including:
Industry retail deliveries of Class 6-8 trucks and buses in the U.S. and Canada are forecast to be between 335,000 and 365,000 units
Revenues are expected to be between $10 billion and $10.5 billion
Adjusted EBITDA is expected to be $775 million to $825 million
Manufacturing free cash flow is expected to be breakeven excluding changes in working capital
In addition, Navistar plans to grow EBITDA margin from the 8% currently anticipated for 2019 to 10% by 2022. Components of this improvement include higher revenues and market share through new product offerings and market segmentation initiatives; incremental product cost improvements in procurement and manufacturing through supply and logistics savings and lean manufacturing activities; and lower structural costs from active cost management and lower pension and OPEB costs.
EBITDA improvement planned by 2024
The company plans to achieve EBITDA margins of 12% by 2024. Components of this additional improvement include development of integrated powertrain offerings, a single platform strategy, modular product design and optimization of the company's manufacturing footprint.
The company summed up its vision by citing unique opportunities:
Its new product lineup, quality improvements and uptime focus are gaining market share.
Gross margins will grow with the lower costs derived from the TRATON alliance and enhanced manufacturing strategy.
Aftersales revenue will grow as market share gains add to the vehicle parc and integrated powertrains improve the parts mix.
Substantial improvements in net income as free cash flow is used to pay down debt and fund pension plans.
"Navistar's recent improvements in both market share and financial returns are sustainable and will grow in the years ahead," Clarke said. "I believe Navistar is the best investment opportunity in the commercial vehicle space."