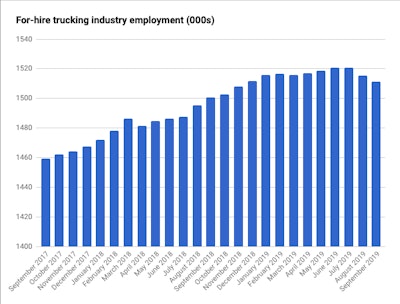 CCJ's Indicators rounds up the latest reports on trucking business indicators on rates, freight, equipment, the economy and more.
The for-hire trucking industry cut its employment figures in September for the third straight month, an indicator that the industry continues to lose steam in a year that's seen a marked slowdown from strong growth in 2017 and 2018.
The Department of Labor released its latest jobs stats on Friday. Despite the overall economy adding 130,000 jobs in September, employment in the for-hire trucking fell by 4,200 jobs, according to the DOL.
September's losses followed August's drop of 5,100 and July's dip of 300 jobs.
This is the first time trucking industry employment has dipped consecutively on a month-to-month basis since mid-2016. The recent rocky three months follow strong upward gains in trucking employment numbers dating back to the beginning of 2017.
Of major freight producing sectors, the manufacturing industry dropped 2,000 jobs in September, according to the DOL, while the construction industry added 7,000 jobs.
For-hire trucking industry employment in September totaled 1.5113 million.