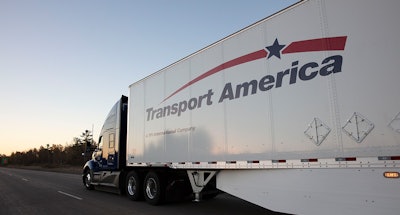 Minnesota-based trucking company Transport America, a subsidiary of TFI International (No. 10 on the CCJ Top 250) will pay a truck driver $22,500 to settle a lawsuit brought by the U.S. Equal Employment Opportunity Commission.
The lawsuit, filed Aug. 20, alleged that Transport America violated the Americans with Disabilities Act by requiring a trucker pay a fee to have a service dog in his truck, even though the dog was required as a "reasonable accommodation" for the driver's anxiety.
Attempts to reach Transport America for comment about the lawsuit were unsuccessful. The settlement states that the company denied it violated the ADA and said the dog was already allowed to ride in the driver's truck. The settlement is not an admission of wrongdoing by Transport America.
EEOC says that not only are employers required to allow service dogs, they also cannot place any burden on employees with disabilities that isn't placed on other employees.
"This is a timely reminder to employers that it isn't enough that they allow service animals to accom­pany qualified individuals with disabilities," said Julianne Bowman, district director for the EEOC's Chicago District. "They also must avoid placing any burden on the employee with a disability that is not placed on employees who do not need the accommodation or who do not have animals accompany them."
Since Transport America already allowed drivers to have dogs in trucks, the settlement, in addition to the payment to the driver, requires Transport America to revise its policies to allow qualified employees with disabilities to use a service animal without any additional costs.