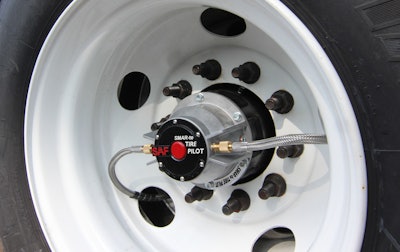 SAF-Holland at the North America Commercial Vehicle Show in Atlanta Tuesday, announced the launch of a new intelligent tire pressure management system.
SMAR-te Tire Pilot, in partnership with AKTV8, combines patented electro-pneumatic controls with SAF's Tire Pilot Plus wheel ends.
"It's a smart system that can sense and adjust tire pressure by load," said Bill Hicks, SAF-Holland director of product planning.
The intelligent tire management system is engineered to work with SAF integrated suspensions and functions to inflate, deflate, and equalize trailer tires to ensure even wear and optimize tire pressure based on axle load to maximize tire sidewall and tread life.
Hicks said SMAR-te Tire Pilot provides fast, accurate tire pressure control with no regulators to wear out or recalibrate, while Smart-Alerts provide live system status. An on-board scale warns of potential overload via dashboard alert.
The system improves cushioning, Hicks said, of both the vehicle and cargo, especially when lightly loaded, and can help enhance fuel economy and reduce Greenhouse Gas (GHG) emissions.
SMAR-te Tire Pilot incorporates AKTV8's iAir electro-pneumatic control module with integrated solenoid valves and sensors to dynamically measure and adjust tire pressure based on trailer axle load.
"The sensitivity of the controls has the ability to be plus or minus 1 PSI," Hicks said. "[An electronic control system] has a greater sensitivity than a lot of the pneumatic valves."
The Smart-Alert diagnostic LED light warns of minor tire leaks, severe leaks, and overload conditions. Bluetooth and CAN connectivity allow enhanced configurability and serviceability with optional telemetry integration.
In the event of a major tire leak, Hicks says the system will warn the driver of the issue via the dash display and work to maintain adequate pressure, capping the unaffected tires so they will maintain proper pressure until the driver can address the problem.
Hicks said the system can add a .3 fuel savings and up to 20% increase in tire life, putting payback on the system at around a year.