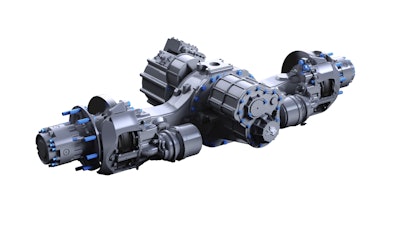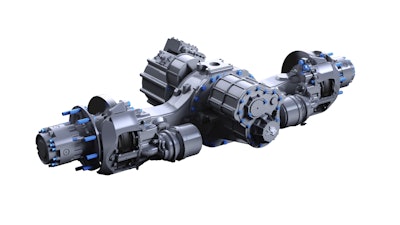 Meritor, Tuesday at the North America Commercial Vehicle Show in Atlanta, detailed enhancements to its 14X HE linehaul tandem drive axle, and added two more drive axles to its high-efficiency line of products.
Designed to help OEMs meet upcoming fuel-efficiency regulations, 14X HE axle – along with the new RT160 HE axle for heavy-haul and vocational applications and the 17X HE axle for heavy-duty applications – are assembled with high-efficiency bearings, specialized gearing, fast ratios for down-speeding and Meritor's Lube Management System.
After only two years on the market, Meritor upgraded the 14X HE tandem axle – adding about .5% in efficiency according to James Taylor, Meritor vice president of Rear Drivetrain – by adding a second Meritor Lube Management System to the forward axle carrier. When the axle launched in 2017, only the carrier of the rear axle was equipped with the system.
The new 17X HE axle for 4×2 and 6×2 heavy-haul applications targets a 1 percent efficiency improvement over Meritor's previous offering. The Meritor Lube Management System, which offers a reduced lubrication volume, is standard. Meritor's use of laser welding to join the ring gear and differential housing eliminates the need for bolts, which contribute to churning losses. The 1.95 fast gear ratio equips applications for down speeding. The axle offers a gross axle weight rating (GAWR) of up 40,000 pounds.
The new RT160 HE tandem axle targets a 1 percent efficiency improvement over Meritor's previous product due to the Meritor Lube Management System and fuel-efficient bearings. Offering a GAWR of 46,000, the tandem axle is equipped with axle ratios of 2.67 and 2.80 for down speeding. When paired with air disc brakes, weight savings can total upwards of 40 pounds, Taylor said.