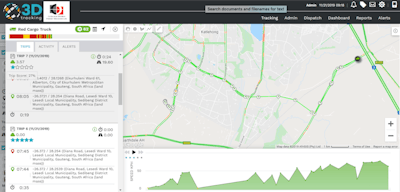 A mobile app from 3Dtracking, available on Google Play and Apple Store, has a new driver behavior feature that gives fleet managers insight into their top-rated drivers.
Newer vehicles link the fleet management system to wireless devices and sensors, and integration with vehicles' onboard computers or CANBUS, while older vehicles can use retro-fitted sensors.
"By helping to build a standardized approach to driver monitoring, fleet managers will be able to lower insurance premiums, identify accident hotspots, provide evidence for any injury claims and prevent abuse, while improving their safety reputation and building a business case for increased investment in driver training," said Roydon Michael, head of business development at 3Dtracking.
The new update provides a star rating for each trip based on the number of incidents, where 100% is a perfect trip with no incidents. Visual star indicators deliver quick monitoring, while users can view full breakdowns of any incidents per trip. With the dashboard users can rank the five best and worst drivers, and a KPI report update shows the driver/ vehicle percentage over the reporting period.
Drivers can allocate themselves to a specific vehicle via a mobile app/ website, eliminating costs associated with the driver tags and hardware needed to allocate drivers to vehicles.
"As well as saving the company money, fleet managers are now able to identify who is driving each vehicle, for improved accuracy in monitoring driver behaviour," Michael adds.