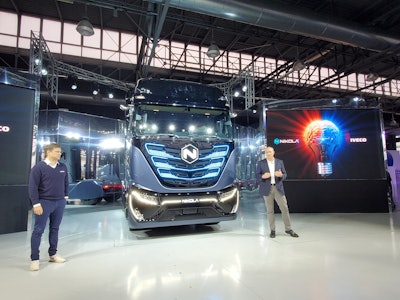 Iveco and its powertrain division FPT Industrial, along with Nikola Corporation, presented Monday the scope and plans of their joint venture and collaborative agreement designed to accelerate Class 8 truck emission neutrality in North America and Europe through the use of hydrogen fuel cells.
The partnership includes the creation of a European joint venture to develop and distribute cabover hydrogen fuel cell and battery electric trucks for the European market. Under the agreement, Nikola will provide fuel cell expertise and advanced technologies along with its all-inclusive lease rate business model. Iveco, with FPT Industrial, will contribute engineering and manufacturing expertise to industrialize the fuel cell and battery electric trucks.
Speaking at the event in Turin, Italy, Iveco parent CNH Industrial CEO Hubertus M. Mühlhauser called the joint-venture with Nikola a "testament to both partners technical expertise, which will result in tangible environmental benefits for Europe's long distance haulers."
"Our industry is changing fast, driven by tightening emissions regulations and younger generations demanding the creation of a circular economy to preserve the environment for their future," added Gerrit Marx, President Commercial and Specialty Vehicles. "Hydrogen and battery – depending on the [duty cycle] – are the only viable solutions for green energy, and have the advantage of enabling nations to become more independent from fossil fuels."
Iveco, FPT Industrial and Nikola have already started development of the joint-venture's first truck. The battery electric Nikola TRE is based on Iveco's S-WAY platform and integrates Nikola's truck technology, controls and infotainment. Testing is expected to begin in mid-2020, with the European public launch planned for the IAA 2020 commercial vehicle exhibition in September.
The vehicle displayed at Monday's event was a model of the Nikola TRE 4×2 tractor planned for regional deployment and features a range of up to 250 miles. The companies said the vehicle will feature a modular battery system with a total capacity of up to 720 kWh, which can be tailored to match different duty cycles. The electric driveline, Nikola says, will deliver nearly 650 HP of continuous power output with more than 1,300 lb.-ft of torque.
The Nikola TRE will also be available in two- and three-axle rigid versions, with GVW ranging from 40,ooo to 57,000 pounds for urban distribution and municipality routes.
Sales and aftersales support of the Nikola TRE will be provided by Iveco's European dealer network.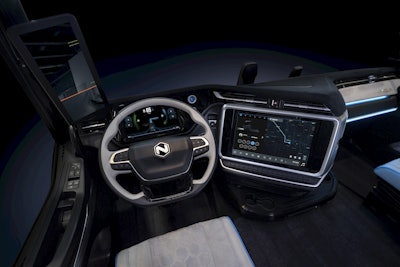 The Nikola TRE will feature a new infotainment system based on Nikola's operating system that integrates infotainment and navigation functions, as well as controls for most of the vehicle's functionalities. The system's features include climate control, mirror adjustment, suspension height adjustment, 360-degree camera system, navigation, Bluetooth audio system, comprehensive vehicle settings and admin vehicle diagnostics.
The Bluetooth low energy technology, Nikola said, creates a secure link between the vehicle and the driver's mobile device, and enables a smart keyless entry system to unlock as the driver approaches the vehicle.