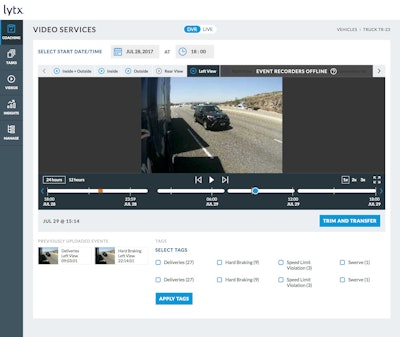 Permira, a global private equity firm, together with a company backed by its funds and co-investors, entered into a definitive agreement to acquire a majority stake in Lytx, a provider of machine vision and artificial intelligence-powered video telematics systems with thousands of clients.
With the new investment, Lytx says its market value is in excess of $2.5 billion.
"With the Permira funds' investment, the largest ever in video telematics, we will embark on our next phase of growth and innovation. Our clients remain at the center of our efforts as we continue to seek new ways to help them solve their toughest operational problems and keep their workers safe," said Brandon Nixon, CEO of Lytx.
An estimated one million commercial vehicles are currently leveraging data derived from video telematics technologies, which is less than 1% of the 125.6 million commercial vehicles globally, according to industry research firm Frost & Sullivan.
"While Lytx has experienced rapid, double-digit growth in recent years, we've barely begun to scratch the surface of the addressable global market," Nixon added.
Brian Ruder, partner and co-head of technology at Permira, said the company saw Lytx standing out in a field of more than 100 competitors. "We look forward to backing the Company in its next growth phase."
With over 120 billion miles of driving data, Lytx says it has the largest, fastest-growing proprietary database of commercial driving data to evolve its artificial intelligence algorithms. In addition, its network of cloud-connected cameras is capable of surfacing insights on how vehicle types, road types, weather conditions, driver behavior, time of day, or a host of other factors can affect collisions, delivery schedules, fuel consumption, vehicle wear and tear, and overall fleet operations.
Lytx's current executive leadership team will remain in their roles following the close of the transaction, which is expected in the first quarter of 2020.