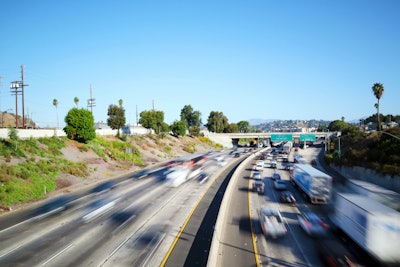 A federal judge on Monday indefinitely extended a temporary restraining order that exempts trucking from compliance with the new California law that effectively forced carriers to stop contracting with owner-operators and small fleets.
Following "two hours of spirited debate," said Joe Rajkovacz, head of government affairs for the Western States Trucking Association, Judge Roger Benitez of the U.S. District Court in Southern California extending the temporary stay of enforcement of the law as it relates to trucking until he decides whether to issue a longer, preliminary injunction against the law while litigation against it plays out in court.
The law, A.B. 5, took effect Jan. 1. Benitez issued the temporary restraining order against its enforcement on motor carriers and owner-operators Dec. 31, just before the law took effect. Late last year, as A.B. 5's effective date loomed, some major fleets announced intentions to stop contracting with any California-based owner-operators, offering them the opportunity to move out of state or, in some cases, transition to company driver. Those moves followed a well-documented flight by carriers from the traditional owner-operator-lessee model.
For now, though, "A.B. 5 does not apply to trucking in California or nationally," after Benitez's ruling, Rajkovacz says. Rajkovacz attended the hearing in San Diego this morning. The California Trucking Association and its legal team (which also represents two independent owner-operators in the case against A.B. 5) gave oral arguments, as did the state of California and the Teamsters, who intervened in the lawsuit on behalf of California and A.B. 5.
A larger decision awaits in the case. Benitez will decide whether to provide a permanent injunction against A.B. 5 while CTA's lawsuit against the law makes its way through federal courts, or whether to allow the law to take effect while that lawsuit is decided.
Attorney Jason Geller, managing partner at law firm Fisher Phillips' San Fransisco office, says he expects Benitez to rule within weeks on whether to issue a longer injunction against A.B. 5, based on the quick hearing schedule and the impact that A.B. 5 has on the trucking industry. "I'd be surprised if there wasn't a ruling by month's end," he said.
Whenever Benitez does issue his ruling, one way or another, it will likely face an immediate appeal, says Greg Feary, a partner at the transportation-focused law firm Scopelitis, Garvin, Light, Hanson and Feary. The Ninth Circuit Court of Appeals will then decide whether to uphold Benitez's ruling while lawsuits against A.B. 5 are resolved.
Benitez ruling wasn't the only knock against A.B. 5 of late. A California state court last week ruled that federal laws regulating trucking supersedes state-level laws like A.B. 5 and, thus, the law shouldn't apply to trucking companies.